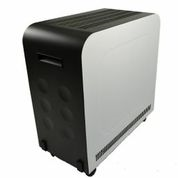 "We are proud to produce the first and only truly made in USA air purifier with our new Erik line," said Oransi CEO Peter Mann.
Austin, Texas (PRWEB) August 14, 2013
Consumers seeking the best HEPA air purifier for home or office will enjoy the new line of Erik air purifiers from the Texas-based Oransi. The company today announced their new line of easy-to-use air purifiers are made in the USA, extremely quiet, and use up to 90 percent less energy when users compare air purifiers from competing brands. Oransi is the only air purifier manufacturer using components and air purifier filters made in the United States, while the new Erik line relies upon German engineering for its EC motor in order to use substantially less energy. The new Erik line of air purifiers will clean the air in up to a 1700 square foot space and offers the same industrial air filtration system – even better than traditional HEPA air filters – that is used in hospital operating rooms and computer clean rooms. In addition, the Erik model has up to 39 times more filter media when compared to other air purifiers – making it the most powerful air purifier for home with the ability to filter more than 99.99 percent of dust, pollen, mold, pet dander, allergens, asthma and bacteria from home air. For more information on the new Erik or other Oransi air purifiers, Like Oransi on Facebook or follow them on Twitter.
"We are proud to produce the first and only truly made in USA air purifier with our new Erik line," said Oransi CEO Peter Mann. "We've embraced the latest manufacturing processes and technologies while at the same time putting Americans back to work. The combination of making the new Erik line of air purifiers in the USA and using the world's best components makes this product more expensive to produce - but there is also substantially increased value with superior reliability and performance. We have created the ultimate air cleaning machine and it's manufactured right here in America," concluded Mann.
Oransi offers free shipping on all orders, a 30 day money back guarantee and a strong ten year warranty. Each of the air purifier models in the new Erik line is customized for specific air quality concerns. The Erik Multi Carbon is designed to eliminate smoke, odors, gases, VOCs and dust. The Erik Ultra removes all airborne particulates. The Erik Ultra Plus removes all airborne particulates plus light odors for the freshest home air. The new line of Erik air purifiers from Oransi start at $1395 and no interest financing is available.
Visit http://www.oransi.com for more information.
About Oransi
Austin, Texas-based Oransi is a veteran-owned business that was founded in 2009 by a team of executives and engineers with decades of experience in the air quality and home cleaning products industries. Oransi provides best-in-class cleaning products to U.S. consumers – including HEPA air purifiers, ionic air purifiers, and eco-friendly laundry products. Oransi is a variation of the word "Oranssi" – a Finnish word that means orange that is a tribute to the CEO's hometown (Syracuse) and his heritage.