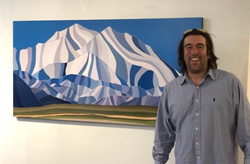 "I want to inspire people to go outside and get in touch with the beautiful landscapes that surround us everyday. Whether that be in Rocky Mountain National Park or a rural town in Eastern Colorado, all places have scenery to observe and absorb," says Colroado Artist Topher Straus.
GOLDEN, Colo. (PRWEB) June 06, 2019
The American Mountaineering Museum (AMM) in Golden, Colorado is the first and only museum in the nation dedicated to mountaineering history. Since its founding in February 2008, the museum has pioneered a new approach to interpreting knowledge about mountains and educating people on mountaineering history, safety, and mountain culture. Artist Topher Straus cultivated his love of the outdoors in his native Colorado and has been recently hard at work in his Golden studio creating an innovative series of paintings highlighting U.S National Parks. Given the natural connection of subject matter and as an active supporter of their local community, the museum is pleased to feature these works in a solo exhibition, Topher Straus: The Parks.
The public is invited to a free opening reception at the museum 710 10th St. in Golden on Thursday July 18 from 6-9 pm. Attendees will enjoy drinks, nibbles and chance to meet the artist. The exhibit will be on view through September 30th, 2019 during regular museum hours, Monday, Tuesday, Thursday and Friday 10-4 pm, Wednesdays 10-6 pm and Saturdays 12-5pm. Adult admission is $7.
Inspired by his own exploration of the outdoors and a strong desire for continued preservation, Straus' large-scale paintings take an original approach to depicting iconic national park landscapes around the United States. He is proud to show his work in the area that his fostered life-long connection to nature. His process blends photography with digital painting, with the final image printed onto large sheets of aluminum and finished off with a high-gloss transparent acrylic resin finish. The results are dynamic abstractions of familiar park scenery that pop with color. Michael Paglia, Art Critic for Denver's Westword recently reviewed this series with the following observations:
"Given the high-tech methods and the semi-gloss surfaces, the result could be too slick and commercial, but the expressionistic handling of the outlined forms prevents that. The landscapes are simplified and conventionalized abstractions of the views and have a retro-cubist quality, along with a dash of Yellow Submarine."
Colorado native Topher Straus left the state to attend Syracuse University, where he graduated with a Bachelor of Fine Arts in Film Art. He pursued a career in documentary, narrative films and advertising that took him to Los Angeles and later, New Zealand. Upon returning to Denver in 2012, he shifted gears and began fervently working in his studio as a full-time artist, quickly landing his first solo exhibit. His second solo show, The Parks, was featured at Niza Knoll Gallery early in 2019. He is an active, enthusiastic promoter of his own work and the art community as a whole. Follow Topher on Instagram @CreativeTopher and his website at TopherStraus.com
The Bradford Washburn American Mountaineering Museum seeks to preserve the history and spirit of mountaineering, to educate visitors on mountain culture and the sport of mountaineering, and to inspire in the modern climber a greater appreciation for climbing history. Known as the nation's foremost destination to experience and research mountain history, the museum's unparalleled and varied collection offers a comprehensive field view.  For more information visit http://www.mountaineeringmuseum.org