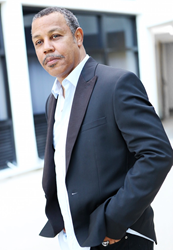 Nashville, TN (PRWEB) September 13, 2017
Sound Royalties, LLC's Director of Music Royalty Funding Reggie Calloway will speak today at AMERICANAFEST℠: The Americana Music Festival & Conference in Nashville, Tennessee. Calloway is also available to meet with local songwriters, artists and producers to discuss how Sound Royalties might be able to help them grow their careers.
Taking place Sept. 12-17, 2017, the annual event brings together thousands of artists, fans and industry professionals at various locations across Nashville for six days of music, seminars, panels and networking opportunities.
Calloway will speak on the panel "From the Song to the Bank" today, Wednesday, Sept. 13 from 2-3 p.m. at the Westin Hotel Conference Center. Moderated by Allen Johnston of The Music Specialist, the panel will provide insider knowledge for musicians, songwriters and publishers on what makes the music industry tick, how it has evolved and what to expect in light of the new digital landscape. Calloway will also moderate the "Sync Licensing" panel, taking place today at the Westin from 3:30-4:30 p.m. This session will discuss how to lucratively license your music in film, TV, and video games.
Due to his diverse experience, Calloway makes an ideal contributor to these panels. Well-known for founding the popular Techno-funk band "Midnight Star," Calloway is a five-time Grammy nominee, including a nomination for R&B Songwriter of the Year for his hit song "Casanova." Currently, he serves as Director of Music Royalty Funding for music-focused specialty finance firm Sound Royalties, which has quickly developed market dominance by providing artist-friendly funding solutions.
Media or Nashville-area musicians interested in speaking with Calloway should contact Pamela Armstrong at pamela@redbanyan.com or 618-267-6305.
About Sound Royalties
Founded by CEO Alex Heiche, Sound Royalties, LLC is a privately-owned specialty finance firm that helps music industry professionals fund personal and professional projects while allowing them to retain the rights to their music and royalties. The company's core business is offering royalty advances of anywhere from $5,000 to $10 million, without having to deal with credit issues, while preserving all rights to the artist's music. It does this by advancing artist performance royalties paid through music labels and Sound Exchange, songwriter royalties paid through music publishers and Performing Rights Organizations such as ASCAP, BMI, SESAC and GMR and music streaming royalties from Spotify, Apple Music, YouTube. To date, Sound Royalties, LLC has worked with a wide range of leading music industry professionals, including Grammy Award winners, platinum recording artists and notable music industry executives in every genre. Learn more at http://www.soundroyalties.com.