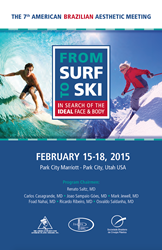 Park City, Utah (PRWEB) February 04, 2015
Noted plastic surgeon, Dr. Renato Saltz is pleased to announce the 7th annual American-Brazilian Aesthetic Meeting™ (ABAM). This year's meeting will be held in Park City, Utah at the Marriott Park City and is open to anyone interested in the field of aesthetic surgery. Of special focus, the meeting will explore the current socioeconomic conditions and how they are affecting the work of plastic surgeons around the world, especially in Brazil and the United States.
This year's ABAM will provide an excellent opportunity for an international clinical exchange of knowledge in aesthetic surgery. The meeting will also serve as a unique forum for residents, fellows and colleagues in private practice from around the globe where they can fellowship with and present their work to other colleagues.
A number of exhibitors have signed up for the event. They include Allergan, Merz Aesthetics, Sientra, Coolsculpting by Zeltiq, Assi, AdviceMedia, Canfield, Utah Medical Products, Premier Physician Marketing and Tulip Medical Products, among others.
Online registration is still available at the ABAM website, along with a complete list of meetings, exhibitions and speakers. On February 15th, attendees can enjoy a champagne breakfast starting at 6:00 AM. Other presenters and their topics are listed on the website.
Dr. Renato Saltz is the founder & chairman of the Image Reborn Foundation of Utah. In addition, he serves as first vice-president of the International Society of Aesthetic Plastic Surgery (ISAPS) and is an honorary member of the Brazilian Society of Plastic Surgery (SBCP). He is a Diplomate of the American Board of Surgery and Plastic Surgery and Fellow of the American College of Surgeons.
Highlights of this year's program include facial rejuvenation, forehead and eyelid rejuvenation, rhinoplasty, breast and body contouring, and many other timely topics for the aesthetics industry. The three-day conference will include industry workshops, free paper presentations and discussions on patient safety for cosmetic medicine.
Excess proceeds from the conference will be donated to the Image Reborn Foundation of Utah to support Breast Cancer Survivors. IRF is a non-profit organization 501(c)(3) that provides no-cost three-day retreats to women with breast cancer in the beautiful mountains of Park City. Learn more about the foundation's mission by visiting http://www.imagerebornfoundation.org
About the American-Brazilian Aesthetic Meeting™ (ABAM)
The 7th annual ABAM event will be conducted at the Park City Marriott in Park City, Utah from February 15th through the 18th. The event is being hosted by Dr. Renato Saltz and will feature many speakers and exhibitions that cover a wide range of topics of interest to plastic surgeons and those working in the field of aesthetic medicine. Visit the website to learn more: http://www.americanbrazilianaestheticmeeting.com/
About Dr. Renato Saltz
Dr. Renato Saltz is a board certified plastic surgeon in Utah with special focus on body contouring, facial rejuvenation, breast surgery and reconstruction after cancer. He is committed to giving each client the very best care and delivering exceptional results to patients. He left a position as Associate Professor of Plastic Surgery and Director of the Summit Plastic Surgery Center at the University of Utah to pursue a lifelong dream of opening his own plastic surgery clinic.
Media Contact:
Jennie Wilson
Premier Physician Marketing
Tel 734-402-8843