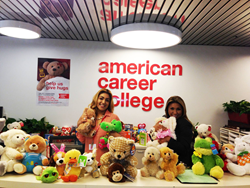 Los Angeles, California (PRWEB) March 14, 2014
During the month of February, students and faculty at all five Southern California campuses of American Career College collected over 1,000 stuffed animals and children's books as part of a third annual Teddy Bear Drive. The donated items are delivered to pediatric units at several hospitals in Los Angeles and Orange County with the goal of cheering up children who have been hospitalized with serious illness or injuries. The first delivery was this week to children at the White Memorial Medical Center in Los Angeles.
"Our students, faculty and associates have worked very hard on this year's teddy bear drive and they should be very proud," said ACC President Tom McNamara, who is holding a large green teddy bear as students unloaded an ACC bus that is packed with stuffed animals. "To see the faces of these children light up is truly rewarding for all of those involved. Every year this event continues to grow, making a difference in the lives of hospitalized children throughout Southern California and I'm very happy to be here."
"I think this is an absolutely incredible gift they are giving to our children here," said Lynn Whaley, RN, Senior Vice President and Chief Nursing Executive of White Memorial Medical Center. "When children are in the hospital it's not a good thing for them or their families, so any gift that can bring joy to them is helpful to the healing process – and not just for the children; everybody loves teddy bears."
ACC students spent the morning delivering teddy bears and books to children in the pediatric unit at White Memorial Medical Center. Because of the large number of donations, the nursing staff now has a supply of teddy bears and books to give to children when they are admitted throughout the year.
ACC students and faculty will be delivering teddy bears and books to several other hospitals over the next couple of weeks. Students who participated in the drive and special delivery today at White Memorial Medical Center said it was a heartwarming and meaningful experience.
"It made me feel really great inside to be here today – seeing the kids smile, and being the reason for that, is amazing," said ACC student Jazlyne Barber, who was on-hand to help deliver to children at White Memorial Medical Center.
"I've never seen so many teddy bears," Whaley said. "The fact that these are medical and health care students reaching out to do something for patients is wonderful."
"As educators, we feel an obligation to teach more than just medical skills to our students," McNamara added. "Through our many programs like the teddy bear drive we strive to instill core values such as compassion for patients and a sense of community - that as health care professionals they serve the community and it is important to give back."
McNamara said that ACC students and faculty collective complete thousands of hours of community service every year. In addition to the annual teddy bear drive, they volunteer at countless community health clinics, blood drives, fundraising events for charities, and more.
"I look forward to what the students will do with this drive next year," McNamara said.
About American Career College
Founded over 35 years ago, American Career College (ACC) has grown to meet the demand for highly skilled health care employees across a broad spectrum of disciplines. ACC offers a total of 10 unique health care training programs at 5 locations in California. ACC also offers a no-cost GED Preparation Program designed to help members of the communities served by the school achieve their goals in life. For more information visit http://americancareercollege.edu.
About White Memorial Medical Center
White Memorial Medical Center has been a part of the community for generations and keeping the community healthy has been the mission of hospital since it was founded by the Seventh-day Adventist Church in 1913. The hospital is a thriving part of the neighborhood, presenting health fairs and other community services throughout the year. For more information, visit http://www.whitememorial.com.