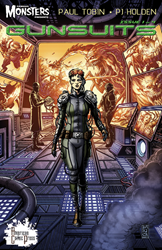 Hollywood, CA (PRWEB) April 28, 2015
Famous Monsters, the world's longest-running genre entertainment magazine (est. 1958), announces that in 2015 it will expand its publishing division into original comic books.
 
Far from being a departure, comics have long been a part of FM's history. In the 60s and 70s, the magazine shared the Warren imprint alongside several monumentally influential black and white titles: CREEPY, EERIE, and founding FM Editor Forrest J Ackerman's very own VAMPIRELLA. In recent years, FM has dedicated multiple pages of every issue to articles about current comic book creators and their projects. The comic medium is naturally conducive to Sci-Fi, fantasy, horror, and all the themes that Famous Monsters prides itself in covering. By publishing original comics, FM is returning to its very roots.
 
This new comic book division, American Gothic Press, has an expansive slate to kick off in 2015, featuring such renowned creators as Steve Niles, Paul Tobin, Nat Jones, Darick Robertson, and many more. The first series, set to debut in June, will be GUNSUITS, written by the Eisner-winning Paul Tobin (BANDETTE, COLDER), with art and cover by P.J. Holden (JUDGE DREDD, NUMBERCRUNCHER) and an alternate cover by Darick Robertson (TRANSMETROPOLITAN, HAPPY!).
 
GUNSUITS is a whirlwind ride of mechs, monsters, and alternate universes, adapted from the short story "Wormholes". The story follows Cassandra "Potts" Potter as she battles gigantic, scaly bio-weapons while simultaneously searching every available dimension for a way to win. "I always try to keep in mind that heroes [like Potts] are regular people," says Tobin. "They've been forced into a situation, but 'Serve justice!' isn't what's paramount in a hero's mind. It's more 'don't get shot or eaten' and 'don't let my friends get shot or eaten'." Both are distinct possibilities in GUNSUITS when Potts is introduced to a group of soldiers called The Tombstones and tensions begin to run high.
 
The series, which will run monthly for four issues, will be illustrated by JUDGE DREDD alum and NUMBERCRUNCHER co-creator PJ Holden. "PJ has been great," says Tobin. "He's brought the grunge that I wanted. These mechs have dirt to them. Scars. It's like in football, when you look at the bench and there are a few players with torn jerseys, bloodstains, caked dirt; and then there are the players with fresh white pants. Our mechs are the former: we need the dirt and the blood and the feel that these things are patched together, a thin line of technology that stands between the pilot and instant destruction—a thin line that might be erased at any moment."
 
The first issue of GUNSUITS will hit comic shops in June with a main cover by Holden that will ship equally with a cover by industry legend Darick Robertson. Both feature the series' main character, Cassandra "Potts" Potter, and a glimpse of the tentacled enemies she faces. "Gunsuits allows me to draw characters and creatures that come very naturally to me, which is what makes monster stories so much fun to create in the first place," Robertson says. He is well known in the comic book world for over the top action and Sci-Fi, having co-created the enduring TRANSMETROPOLITAN (with Warren Ellis), THE BOYS (with Garth Ennis), and HAPPY! (with Grant Morrison).
 
Coming in July from American Gothic Press will be BORNHOME, also scripted by Tobin and pencilled by Jeff Johnson (GREEN LANTERN, X-O MANOWAR) in the Cosmic Sci-Fi style of DRIFTER and BLACK SCIENCE. September will bring BROKEN MOON by Steve Niles (30 DAYS OF NIGHT, CRIMINAL MACABRE) and Nat Jones (SPAWN, '68), an apocalyptic tale about creatures of legend and how they have come to control the fate of the world. And October will see the debut of the original kaiju epic, PROJECT NEMESIS, from the bestselling novels by author Jeremy Robinson, featuring art by Matt Frank (GODZILLA: RULERS OF EARTH, TRANSFORMERS).
GUNSUITS#1 is available for pre-order right now through Diamond Previews.
APR150991 FM PRES GUNSUITS #1 (OF 4) CVR B ROBERTSON             
APR150990 FM PRES GUNSUITS #1 (OF 4) CVR A HOLDEN
The AGP website has more information, including an exclusive 4-page interior preview of GUNSUITS.
About FM:
Famous Monsters of Filmland was founded in 1958 by editor Forrest J Ackerman and publisher James Warren. It was the first magazine to talk about the process of making films and encouraged its young readers to make their own monster movies at home. Inspiring entire generations, Steven Spielberg, Peter Jackson, Guillermo del Toro, Stephen King, Rick Baker, and many others all point to FM as one of their primary sources of inspiration in their creative development. Today, FM is one of the best-selling genre magazines worldwide, and has expanded to include digital publishing, conventions and film festivals, comic books, apparel, and much more.