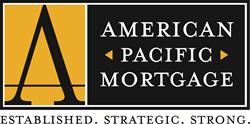 "Since 1996, the mortgage industry and our company have gone through a lot of regulatory changes ... One thing that has never changed is our unwavering commitment to support our branch managers and loan officers." - Bill Lowman, CEO/president of APM
ROSEVILLE, Calif. (PRWEB) December 07, 2016
American Pacific Mortgage Corporation (APM) is proud to announce its 20th year as a leading mortgage banking company in the Western United States. APM has achieved two decades of innovation and steady growth and now ranks as the 15th largest mortgage company in the country, according to Mortgage Executive Magazine, employing over 2,300 people.
"Since 1996, the mortgage industry and our company have gone through a lot of regulatory changes, and certainly some highs and lows. One thing that has never changed is our unwavering commitment to support our branch managers and loan officers," said Bill Lowman, CEO/president of APM.
APM is defined by its vision, values and clarity around what it does, which is to serve home owners and get them into homes, said Kurt Reisig, chairman of APM.
"We're profoundly excited that the culture we built gives us the opportunity to continue to serve our customers while making a statement about how companies in America can be run," Reisig said.
This year, APM was named No. 15 in Mortgage Executive Magazine's Top 100 Mortgage Companies in America in 2015, moving up a spot from its previous ranking of No. 16 in 2014. APM is a purchase-focused retail mortgage lender with a strong record of achievements, including ending 2015 with $8.1 billion in loan production, an increase of $3 billion from 2014. It also has been named one of the 50 best places to work by Mortgage Executive Magazine.
"Many people think that we are most proud of the fact that we've had such incredible growth and that we are ranked as a top 15 independent mortgage bank, but I'm most proud of the culture of this company," Lowman said. "We now have 2,300 people who work for us, but I really look at it as if we have 2,300 families working for our company, and our culture and our values extend to all of them."
About American Pacific Mortgage Corporation
American Pacific Mortgage Corporation (APM) is a mortgage banking company licensed to lend in 19 states throughout the Pacific Northwest and Midwestern U.S. The company, which is headquartered in Roseville, CA, includes more than 800 loan advisors and branch managers in over 170 branch offices. Established in 1996, APM is built and led by a senior leadership group with decades of experience in mortgage lending. APM is fanatical about the level of service, support and technology it provides to its branches and loan originators. For more information, visit apmortgage.com.
# # #