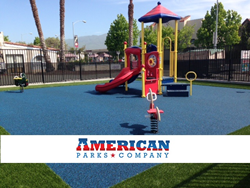 Popular daycare facilities such as the Rainbow Childhood Daycare and Preschool in California are rethinking commercial playground design.
Milpitas, California (PRWEB) April 24, 2014
Encouraging children to play outdoors has a number of cognitive, social and physical developmental benefits. That is why popular daycare facilities such as the Rainbow Child Daycare in California are rethinking their playground and creating opportunities for meaningful play.
Rainbow Childhood Daycare and Preschool (Milpitas, California) was founded in 2010 and offers an engaging curriculum for all ages. The flexible daycare offers full time, part time and even weekend child care services. Children can enjoy an immersed multilingual environment with instruction available in Mandarin or English.
Rainbow Child Daycare choose American Parks Company and our "Busy Bee" model for their new playground. Two fun, independent play spring riders were added to the playground in our poured rubber safety surface. This surface is ideal for young children as it provides a non-slip tread while ensuring safe cushioning in the event of a fall.
For children aged 2-5 years, the Busy Bee commercial playground design includes two slides and two activity panels. A playwheel is also included and the structure requires a total use zone of 27' x 22'. The partial cover assists in creating shade while offering partial UV protection for children.
The project was completed and installed just in time for Rainbow Child Daycare to enjoy a full season of outdoor use and fun.
______________________________________________________________________________________
American Parks Company is a McKinney Texas based company that provides commercial grade park and playground equipment primarily to municipalities, city parks, schools, churches, daycare facilities, and homeowner associations.
Since 2004, American Parks Company has consistently provided high quality play structures at extremely affordable prices. American Parks Company is an industry leader in both the national sales and installation of commercial playground equipment.
For general information on American Parks Company, please call 1-800-381-4491 or visit http://www.AmericanParksCompany.com. For media inquires, contact Marc Parker – Vice President of Marketing – sm(at)americanparkscompany(dot)com.
Corporate Address: 225 E. Virginia Street McKinney, Texas 75069.