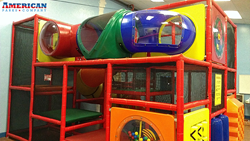 Word of Life Ministries. Boldly Living. Boldly Loving. - Fort Myers, Florida
McKinney, Texas (PRWEB) February 28, 2014
Word of Life Ministries in Fort Myers, Florida believes that inspiring an active community starts from the ground up. They recently invested in the purchase and installation of quality commercial playground equipment from American Parks Company (McKinney, TX).
Among many of the exceptional qualities of the Word of Life Church, their service to their surrounding community is inspirational. The Church funds an Adopt-a-Block program which enables volunteers to meet weekly and collaborate on tangible improvements to their 'adopted' neighborhood.
Whether the outreach involves feeding or providing clothing for the underprivileged or hosting puppet shows or free face painting for children, the program allows the Church to make a noticeable weekly difference in the lives and happiness of their community.
Developing a new indoor playground has given the Church the opportunity to encourage active fitness and creative play for children. The installation of the Junior 400 commercial playground model included a ball turn panel, tic-tac-toe panel, vertical squeeze, punching bags, buoy ball and an observational crawl, web crawl and exciting two-level spiral slide. The quality equipment solution was purchased after consultation with American Parks Company.
For the generous parish of the Word of Life Ministries, rain or shine, the children will be able to enjoy the social and physical benefits of play.
---
American Parks Company is a McKinney, Texas-based company that provides commercial grade park and playground equipment primarily to municipalities, city parks, schools, churches, daycare facilities, and homeowner associations.
Since 2004, American Parks Company has consistently provided high-quality play structures at extremely affordable prices. American Parks Company is an industry leader in both the national sales and installation of commercial playground equipment.
For general information on American Parks Company, please call 1-800-381-4491 or visit http://www.AmericanParksCompany.com. For media inquires, contact Marc Parker – Vice President of Marketing and Operations – sm(at)americanparkscompany(dot)com.
Corporate Address: 225 E. Virginia Street, McKinney, Texas 75069.