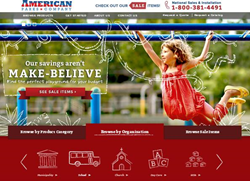 We've enhanced our UX with an intuitive website design that places all the tools in the hands of our valued customers. - Marc Parker, Vice President Marketing and Operations
McKinney, Texas (PRWEB) March 10, 2014
The marketing team at American Parks Company (McKinney, Texas) devised an innovative redesign of their website with the objective of improving the user experience (UX) for commercial clients.
The objective was to streamline specifications, pricing and playground equipment options in a way that placed convenient tools to independently cost options online. In an effort to make the process transparent for busy commercial clients, the website was completely purposed into user (and specification) friendly website.
New features include budget tools and tips on estimating square footage and other requirements. Easy to use live chat software (available Monday to Friday from 7:00 a.m. CST to 4 p.m.) enables organizations and planners to get immediate answers to their questions regarding specific models, site suitability, installation and warranty.
The colorful new website design features the playful perspective of American Parks Company which keeps the focus on their speciality. Fun! The award winning, durable and ADA accessible designs are featured Nationally, and American Parks Company has become a recognized industry leader for innovative design and quality commercial playground equipment.
About American Parks Company
American Parks Company is a McKinney Texas based company that provides commercial grade park and playground equipment primarily to municipalities, city parks, schools, churches, daycare facilities, and homeowner associations.
Since 2004, American Parks Company has consistently provided high quality play structures at extremely affordable prices and are a recognized is industry leader in both the national sales and installation of commercial playground equipment.
For general information on American Parks Company, please call 1-800-381-4491 or visit http://www.AmericanParksCompany.com. For media inquires, contact Marc Parker – Vice President of Marketing and Operations.
Corporate Address:
American Parks Company
225 E. Virginia Street
McKinney, Texas 75069.