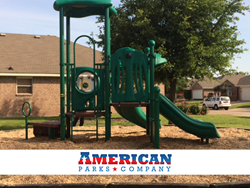 The Glen Cove lakeside community appreciates the value of fitness and spending time outdoors.
Little Elm, Texas (PRWEB) May 31, 2014
How do you build a community? One of the core elements of urban residential planning is the allocation of green space to encourage recreation, fitness, and socialization. Innovative home owner association groups understand the value of creating not just a park, but a social hub within their community which enhances the health, wellness, and enjoyment of its residents.
The Glen Cove community, located in Little Elm, Texas, is a rapid-growth municipality. Settled just a few minutes from Frisco and near the popular Lewisville Lake, Glen Cove is a destination for home owners who enjoy lakeside recreation, boating, fishing, and more. The community is conveniently situated to large shopping centers and excellent educational facilities.
The Glen Cove HOA wanted to augment their current outdoor recreation with a commercial playground structure that would accommodate and entertain residents and provide a healthy outdoor fitness opportunity for families. With so many activities geared toward older children, Glen Cove HOA selected the Busy Bee commercial play structure from American Parks Company™ to accommodate children aged 2-5 years. The playground equipment provides seven unique learning and physical activities for up to twenty children, and it is ADA accessible. It is a playful and eye catching addition to their park.
The Glen Cove lakeside community appreciates the value of fitness and spending time outdoors, and welcomed the new playground as a way to inspire those values in the children of their growing community.
----------------------------------------------------------------------
About American Parks Company
American Parks Company is a McKinney, Texas-based company that provides commercial grade park and playground equipment primarily to municipalities, city parks, schools, churches, daycare facilities, and homeowner associations. Since 2004, American Parks Company has consistently provided high-quality play structures at extremely affordable prices. American Parks Company is an industry leader in both the national sales and installation of commercial playground equipment.
For general information on American Parks Company, please call 1-800-381-4491 or visit http://www.AmericanParksCompany.com.
For media inquires, contact Marc Parker – Vice President of Marketing – sm(at)americanparkscompany(dot)com.
Corporate Address: 225 E. Virginia Street, McKinney, Texas 75069