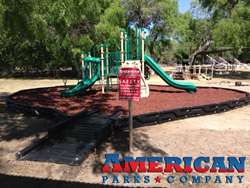 The city was named for the three rivers that border it; the Atascosa River, the Frio River and the Nueces.
Three Rivers, Texas (PRWEB) May 31, 2014
Historically, Three Rivers is a city that has thrived due to its industrial strength and natural resources. It is a little city that does big things. With a thriving shale deposit, and other natural sources of economy, it contains a growing population and thriving community.
The city was named for the three rivers that border it; the Atascosa River, the Frio River and the Nueces. In its early days it was designed for two segregated communities, and visitors still note the distinct language difference with road signs predominantly in Spanish between the river and the railroad tracks. It is a city rich in railroad, mining, and glass industries.
The City of Three Rivers chose American Parks Company™ and their popular Double Dutch play structure to improve outdoor recreation for families and children aged 2-12 years. The commercial playground equipment offers 9 different activities and accommodates up to 35 children, with slides, climbers, playwheels and more. Like all of their commercial play structures, the Double Dutch is ADA accessible, allowing children of all capability levels to enjoy play time.
Three Rivers demonstrates that big things really do come in small packages, and the city celebrates its heritage and community spirit with an investment in quality playground equipment. We give Three Rivers an A+ in fun!
About American Parks Company
American Parks Company is a McKinney Texas based company that provides commercial grade park and playground equipment primarily to municipalities, city parks, schools, churches, daycare facilities, and homeowner associations. Since 2004, American Parks Company has consistently provided high quality play structures at extremely affordable prices. American Parks Company is an industry leader in both the national sales and installation of commercial playground equipment.
For general information on American Parks Company, please call 1-800-381-4491 or visit http://www.AmericanParksCompany.com.
For media inquires, contact Marc Parker – Vice President of Marketing – sm(at)americanparkscompany(dot)com.
Corporate Address: 225 E. Virginia Street McKinney, Texas 75069.