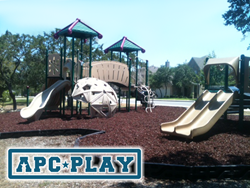 ...parents will enjoy the safety and good, healthy fitness and fun that comes with the new addition to their thriving residential community.
Austin, Texas (PRWEB) November 26, 2014
Residential developments sometimes need extra touches and amenities to help turn a house into a home, and a subdivision into a neighborhood. That is why innovative community associations understand the value of investing in outdoor recreational equipment for children.
The Association Committee at The Estates of Bella Vista (HOA) in Austin, Texas wanted to further add to their growing list of amenities to foster an engaged sense of community. So, they teamed with the playground professionals at APCPLAY© to determine which play structure would fit the needs of their existing public park. The heart of any community is its park, where families and community members can meet and enjoy activities together.
Located in North Austin, The Estates of Bella Vista features incredible homes laid out to embrace the surrounding landscape. What makes this homeowners association exceptional—from an architectural standpoint—is the use of lavish green spaces that are open and inviting to residents. Lot sizes in the hill country development are large, featuring 60 foot to 90 foot properties with home sizes ranging from 2,200 square feet to 4,700 square feet.
The Estates of Bella Vista also feature luxurious recreational opportunities for residents including an expansive outdoor pool and cabana, sheltered seating and picnic areas, and now a large playground area for children aged 2-12 years with two play structures.
The homeowners association at Bella Vista chose to add The Majestic commercial play structure from APCPLAY to accompany their other smaller playground equipment. The new structure includes:

Two exciting slides with The Alpine Thunder Slide and the Chute Slide.
Several physically engaging activities in the 3-dimensional Pent climber, Cargo Net Climber, Rock Wall Climber, and Snake Climber.
Imagination inspiring items including th Post Mount Steering Wheel, Versa Panel, and Starbust Panel.
A Maze Panel for developing children's problem solving and spatial reasoning skills.
Two Square Shingle Roofs with Accents for partial UV protection.
Children at The Estates of Bella Vista will enjoy the adventure of new, durable, and entertaining commercial playground components; and parents will enjoy knowing the equipment is safe and provides healthy fitness and fun. All the residents will enjoy the new addition to their thriving residential community.
About APCPLAY
APCPLAY is based in McKinney, Texas—a suburb north of Dallas—and is a nationwide provider and installer of commercial playground equipment. They serve schools, churches, daycare facilities, homeowner associations, municipalities, and community parks with high-quality, long-lasting play structures, site furnishings, athletic equipment, and pre-fab shades and shelters, along with turn-key installation. APCPLAY has over 25 years experience offering planning services, custom design, and an extensive array of park and playground products. They're committed to top-notch customer service and complete purchase satisfaction.
For general information on APCPLAY, please call 1-888-401-6446 or visit http://www.apcplay.com.
For media inquires, contact Marc Parker – Vice President of Marketing and Operations – sm(at)apcplay(dot)com.
Mailing Address: 225 E. Virginia Street, Suite 2, McKinney, Texas 75069.