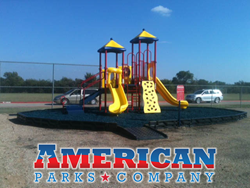 It's no wonder that the Head Start Program selected a play structure from American Parks Company that shares its namesake.
Alvarado, TX (PRWEB) November 25, 2014
The Head Start Program is a national not-for-profit membership organization that provides comprehensive early childhood education, health, nutrition, and parent involvement services to low-income school districts. The Head Start Program of Texas provided the funding to select commercial playground equipment from American Parks Company, giving Alvarado Elementary School a playground that will inspire development and growth, and spark new adventures and friendships through play.
Alvarado Elementary is a small, but innovative school community that puts the health, wellness, and academic success of its students first. The elementary school features a rich curriculum in fine arts with a variety of after school clubs and activities to engage young minds, including a chess club, drama club, and student council.
It's no wonder that the program selected a play structure from American Parks Company that shares its namesake. The "Head Start" commercial playground equipment provides activities for up to 30 children aged 2-12 years, including:

2 Single Speedway Slides for classic fun.
Vertical Ring Climber for strengthening leg muscles.
An Inclined Wall Climber that simulates indoor climbing activities.
Imagination inspiring activities such as the Rain Wheel.
A Moon Phase Panel and Gear Panel for outdoor learning opportunities.
A Bench Seat for relaxing and socializing.
Two Square Roto-molded Plastic Roofs for shade and reduced sun exposure.
Thanks to the generous donation of the Head Start Program, the children of Alvarado can now enjoy the childhood development benefits of free play that their new "Head Start" playground provides.
About American Parks Company
American Parks Company is a McKinney, Texas based company that provides commercial grade park and playground equipment primarily to municipalities, city parks, schools, churches, daycare facilities, and homeowner associations.
Since 2004, American Parks Company has consistently provided high quality play structures at extremely affordable prices. American Parks Company is an industry leader in both the national sales and installation of commercial playground equipment.
For general information on American Parks Company, please call 1-800-381-4491 or visit http://www.AmericanParksCompany.com.
For media inquires, contact Marc Parker – Vice President of Marketing and Operations – sm(at)americanparkscompany(dot)com.
Corporate Address: 225 E. Virginia Street McKinney, Texas 75069.