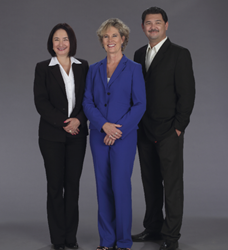 When banks are healthy and actively making loans in a community, the community then is economically growing and healthy.
Santa Barbara, CA (PRWEB) April 06, 2017
The Preferred Lenders Program (PLP) is part of the Small Business Administration's effort to streamline the procedures necessary to provide financial assistance to the small business community. "When banks are healthy and actively making loans in a community, the community then is economically growing and healthy," said Annette Jorgensen, Vice President and SBA Business Development Officer of American Riviera Bank, which actively participates in SBA lending programs. "This is the underlying premise of why the SBA has its lending program and why it is so vital to a strong economy."
Jorgensen, whose career in the Santa Barbara banking industry spans 28 years, lists the following three tips that every small business should know about a SBA loan with PLP status:
No. 1: SBA delegates final credit decision to selected PLP lenders. "Under this program, the SBA delegates the final credit decision, and most servicing and liquidation authority and responsibility, to carefully selected PLP lenders," said Jorgensen. "SBA, however, will continue to check loan eligibility criteria."
Lenders are considered for PLP status based on their record with the SBA, and must have demonstrated a proficiency in processing and servicing SBA-guaranteed loans. In the event of payment default by the borrower and the need for enforced collections, the PLP lender agrees to liquidate all business assets before asking the SBA to honor its guaranty.
No. 2: Fast turn-around. SBA 7(a) loan requests can be approved in-house so the turnaround time is drastically reduced. PLP lenders have the tools most banks do not have, allowing them to act quickly and efficiently.
"You work directly with a bank that has a proven track record since they maintain a relationship with the government, so there is less uncertainty about the outcome," added Jorgensen. "SBA loan programs also offer longer repayment terms, lower payments, and no prepayment penalties (except on commercial real estate), which are sometimes more attractive than the typical loan a bank can offer."
No. 3: Ten percent down. "These loans can be used to start a new business, buy an existing business, expand a business or purchase commercial real estate with as little as 10 percent down," concluded Jorgensen.
About American Riviera Bank
American Riviera Bank is a full-service community bank, focused on serving the lending and deposit needs of businesses and consumers in the community. The bank has three branches: downtown Santa Barbara, in the upper village of Montecito, and a branch in Goleta on Calle Real. For more information, please call (805) 965-5942, or visit http://www.americanrivierabank.com.
About the NALA™
The NALA offers small and medium-sized businesses effective ways to reach customers through new media. As a single-agency source, the NALA helps businesses flourish in their local community. The NALA's mission is to promote a business' relevant and newsworthy events and achievements, both online and through traditional media. For media inquiries, please call 805.650.6121, ext. 361.