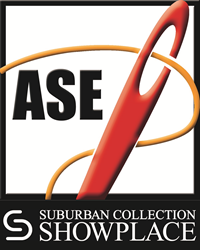 Show visitors can test-drive sewing machines, see a fashion show, do some shopping, or watch a demo to get creative tips, discover fresh possibilities and be inspired for new projects
NOVI, Mich. (PRWEB) September 16, 2014
Live sewing challenges, fashion, quilts, crafts, apparel design, fiber arts and 'sew' much more at the 21st annual American Sewing Expo opening Friday, Sept. 26 and running through Sunday, Sept. 28 at Suburban Collection Showplace in Novi.
"You name it, we've got it from anime to zippers for beginners, experts or in-between attendees," said Janet Pray, show producer of the largest independent consumer sewing show in the country. "Fashion and costume designers, couture specialists, corset makers, teaching professionals and exhibitors provide a creative and artistic experience."
Featured celebrities include David Tutera, fashion designer and host of WE tv's reality event planning series "David Tutera's CELEBrations" (Saturday only) and Khaliah Ali, McCall pattern designer of fashionable, affordable clothing designs for women of all sizes (Friday only).
Show instructors include New York City Fashion Institute of Technology couture professor Kenneth King; Butterick and Vogue pattern designer Katherine Tilton; Simplicity Patterns costume pattern designer Andrea Schewe; theatrical costume, historic re-enactment and bridal corset maker from Farthingales; television and movie costume designer Bernadine Vida; cosplay designer Kristie Good, sewing blogger Rhonda Buss; Baby Lock's Love of Fashion national spokes-designer Joi Mahon; couture sewing expert from "It's Sew Easy TV" Angela Wolf; and Carhartt technical designer Raminta Vilkiene.
The show features accessories, embellishments, one of a kind fabrics and supplies, fashion sewing, drafting, fitting, home decorating, costuming, fashion accessories, machine embroidery, needle arts, quilting, sergers and wearable art. Showgoers will see 17 exhibits, fashion style shows and sewing challenge competitions. Sewing machines, notions, threads, patterns, yarn, technology, kits, gadgets, embroidery designs, tools and other products from 25 states, Australia and Canada will be available for shopping. Techniques and tips will be taught at over 260 seminars, classes, hands-on workshops and demonstrations including professional and industrial sewing.
Reality sewing television competitions are the inspiration for the "Passion for Fashion Sewing Challenge," sponsored by Baby Lock, that begins as the show opens when 12 finalists design and sew garments for judging and a fashion show (similar to Lifetime's Project Runway, NBC's Fashion Star and Bravo's The Fashion Show).
Attendees can learn tips and techniques at make-n-take projects in vendor displays and as they sew their own project to take home at the Sew Party Café.
The "Innovation Generation Fashion Show Competition," sponsored by Baby Lock, Coats & Clark and Kiki magazine, will be held on Saturday for 8 to 18 year olds who know the sewing process and have made their own garments. Entries are prejudged and then worn by the contestants on the Expo Fashion Stage. Attendees can participate in the Costume Fashion Show on Sunday. A Dream Sewing Room, sponsored by Janome and Gall Sewing and Vacuum Centers of Michigan, will be given away on Sunday.
Special display exhibits and events will include Fashion Design in 1/2 Scale Challenge; American & Efird "Push the Envelope-Pocket Pizzazz" contest; historical, cosplay, anime and theater costumes; girls' party dresses; fashion sewing; quilts; wearable art; celebrities, prizes and costume making tips in the Social Media Lounge; and gifts for the first 100 show attendees each day.
"Show visitors can test-drive sewing machines, see a fashion show, do some shopping, or watch a demo to get creative tips, discover fresh possibilities and be inspired for new projects," said Pray. "Sew' many possibilities to learn new crafts, brush up on techniques and find out how the experts do it at this year's show."
From A to Z at American Sewing Expo: Anime, Buttons, Costumes, Drafting, Embellishments, Fabric, Gadgets, Home Dec, Irons, Jackets, Kits, Lace, Machine Embroidery, Needle Arts, Overlock Stitch (Serger), Patterns, Quilting, Rotary Cutters, Sewing, Threads, Universal Needles, Video Game Costumes, Wearable Art, XXI (21st annual American Sewing Expo), Yarn and Zippers.
Suburban Collection Showplace is located at 46100 Grand River Avenue between Novi and Beck Road in Novi, Michigan. Show hours are 9 a.m. - 6 p.m. Friday; 9 a.m. – 6 p.m. Saturday and 9 a.m. - 5 p.m. Sunday. Preshow workshops are 9 a.m. - 5 p.m., Thursday, Sept. 26. Expo admission is $14 and children 15 and under are admitted free with a paying adult. One-hour seminars are $14, all-day workshops are $130 and special combination packages are available. Onsite parking is available for $5. For more information, visit http://www.AmericanSewingExpo.com, Facebook.com/AmericanSewingExpo or call (248) 889-3111.