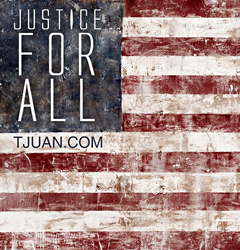 Divided we fall, but together we rise.
Jacksonville, FL (PRWEB) June 26, 2015
A representative for No Compromise Records, Inc. announced today the release of T'Juan's latest single, "Justice for All," a song inspired by the recent tragedy in a South Carolina church.
"Gun violence continues to dominate the headlines today. Between the South Carolina church shooting and Walter Scott, Freddie Gray in Baltimore - there is just too much pain," said T'Juan. "We are seeing the same pain in every major, urban city in America. This violence is affecting everyone from young black boys who continue to take each other's lives to the officer in St. Louis, and to the Caucasian man in Jacksonville who killed Jordan Davis for playing his music too loud."
WAKE UP AMERICA, is the cry. The message sent is that something has to change and it takes everyone to do their part to push the change to create a better America. "Divided we fall, but together we rise," said T'Juan. His message is of education and enlightenment. He highlights the words of the Kings, by saying we've got to get back to the dream of Dr. Martin Luther King, Jr., of everyone living together in harmony and Rodney King because we all just need to get along. With a whole lot of love and effort, the people of this country will rise above the pain and be bold in the fight against injustice and enjoy brighter days tomorrow.
Justice for All's video can be viewed on YouTube: youtube.com/watch?v=FQ_DMJFKefs
We the soul ties of America/
Black lives matter in America/
We shall rise in America/
Overcome this pain in America/
Won't go back to the past of America/
We speak life to the death of America/
One nation/ under God/indivisible with justice for all/
In 2007, T'Juan was discovered as an artist and soon after toured the country with Black Entertainment Television's (BET) Rap It Up team, a team of musicians that raise awareness about HIV/AIDS in the African American community. Through this opportunity, T'Juan poured himself into the youth with a message of hope and abstinence. Currently, he is Jacksonville's Wayman Chapel AME Church's first youth pastor, guiding over 150 youth in the area through Wayman Ministries. "Live Good. Die Right" (#LGDR).
About No Compromise Records, Inc.
Negative influences bombard young people daily through music and media and No Compromise Records is committed to providing positive and inspirational content to provide balance in what one sees and hears, promoting a healthy lifestyle and successful living.
About NALA™
The NALA is a full-service marketing agency providing custom personalized service for small and medium businesses throughout the United States
No Compromise Records
Reginald Estell, Jr., Esq.
904-356-7343
Media Contact
the NALA
news(at)thenala.com
805.650.6121, ext. 361