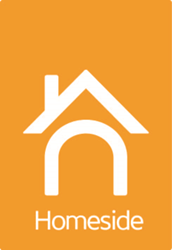 We will be the only mortgage banker nationally operating under the name Homeside, and that is appealing.
Columbia, MD (PRWEB) November 18, 2014
Amerihome Financial, a private mortgage banking institution operating in 22 states predominately in the Midwest and Mid-Atlantic, is pleased to announce it has changed its name to Homeside Financial. The name change is, in part, due to a larger re-branding effort the company is doing to distinguish itself among other lenders with similar names as it looks to expand nationally. Homeside has added over 137 employees in the last 12 months and expects to add another 150 in 2015.
Michael Baynes, Co-Founder and CEO of Homeside Financial states, "We have operated successfully under the name Amerihome since launching the company, but as we continue our pursuit to be a top 100 lender nationally, it is important to have a unique brand name. We will be the only mortgage banker nationally operating under the name Homeside, and that is appealing."
The new name will go into effect immediately for all new business transactions and both internal and external communication will be provided to clients and employees to create a seamless transition. "Everyone we consulted with prior to making the change, from our business partners to team members, all expressed excitement about our new name and the strategy behind it," says Dan Snyder, Co-Founder and COO. "You don't change a company name very often, so when you do, it is encouraging to know that all stakeholders are behind you."
Homeside Financial will continue to offer fast turn times, excellent customer service, and a wide variety of home purchase and refinance products to its clients where they operate today. In addition, Homeside Financial has its eyes on opportunities in the Southeast, as well as Texas, and California out west, and is expecting to launch a national branding campaign under the new name in the first quarter of 2015.
For more information:
For more details about the company's name change or home lending products, visit http://www.goHomeside.com.
About Homeside Financial, LLC
Founded by industry veterans, Homeside Financial is a private mortgage lender that originates, underwrites, and funds its own loans in 22 states in the Midwest and Mid-Atlantic. Homeside Financial is headquartered in Columbia, MD, and has a large operations and lending center in Columbus, OH at Easton Towne Centre, as well. Homeside also has retail lending locations in Reston, VA; Orlando, FL; Mobile, AL; Durham, NC; Rockville, MD; Highland, IN; and Cleveland, OH.