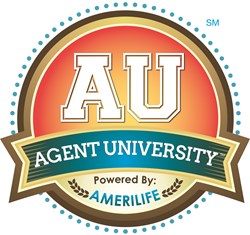 Clearwater, FL (PRWEB) October 04, 2013
The inaugural session of Agent University℠ – a one-day training forum for life and health insurance agents – was "a grand success," and will continue with additional semesters in the future, said AmeriLife® CEO Timothy North.
Presenting advanced classes on a variety of insurance-related subjects, Agent University was a free, one-day seminar hosted by AmeriLife, the nation's largest life and health insurance marketing organization. The Friday, October 4 Sheraton Sand Key Resort seminar was attended by 50 students – both insurance agents and marketing directors.
Agent University's instructors were industry leaders with hands-on experience in all parts of the insurance and health care industries. They unveiled coming industry trends, explored the changing landscape of health care in America (particularly in light of Tuesday's launch of the Affordable Care Act's state and federally facilitated Exchanges), and revealed novel techniques for improving insurance sales. Instructors also highlighted the strengths of insurance products such as annuities and Medicare Select.
"The feedback (from attendees) was stupendous, entirely positive," said AmeriLife's North. "It's clear that the monumental changes in health care and insurance have left agents curious and cautious, and I find it rewarding that they turned to AmeriLife for answers."
Agent University was designed specifically for life and health insurance sales representatives who must address changes in far-reaching and inter-connected industries. Health care reform, new laws (state and federal) and changes in the way insurance is bought and sold have challenged the very foundation of the insurance industry.
Insurance carriers participating in Agent University included Cigna, Phoenix Life Insurance Company, Combined Insurance Company of America, Mutual of Omaha Life Insurance Company, Stonebridge Life Insurance and Athene Annuity. Members of the AmeriLife family of companies included AmeriLife Renewals and Acquisitions, Ameri-Plus and the AmeriLife Marketing Group, Network Insurance and Grupo LatinoAmericano deSeguros Clearwater-based marketing organizations.
Tuition, breakfast and lunch were free for Agent University students; their only obligations were travel and lodging. Agent University was sponsored by AmeriLife, the premier annuity, life and health insurance marketing group in America.
Agent University is a sales, training and industry trends seminar and does not offer college degrees or credits. Not affiliated with the U.S. government or the federal Medicare program.