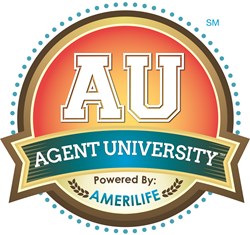 Clearwater, FL (PRWEB) November 12, 2013
The success of the inaugural session of Agent University℠ – a one-day training forum for life and health insurance agents – led to the expansion of the educational seminar, including classes in cities on each coast of Florida.
"It's clear there's a demand for the information and techniques provided at Agent U," said Timothy North, CEO of AmeriLife,® sponsor of Agent University. "The insurance industry has been buffeted by winds of change, and national health care reform has magnified its transformation. Our industry is changing at the speed of light; we have answers and solutions agents won't find anywhere else."
Presenting advanced classes on a variety of insurance-related subjects, Agent University is a free, one-day seminar hosted by AmeriLife, the nation's largest life and health insurance marketing organization.
The inaugural session (in October in Clearwater) of Agent University was so well received that AmeriLife is taking it to three more Florida cities before the year concludes: Orlando (December 5); Palm Beach (December 17); and Fort Myers (December 18).
Agent University's instructors are insurance industry leaders who have first-hand experience in all facets of life and health insurance commerce. The specialists will unveil coming industry trends, explore the changing landscape of health care in America (particularly in light of the recent launch of the Affordable Care Act's state and federally facilitated Exchanges), and reveal novel techniques for improving insurance sales. Agent U instructors will also address the scope and strengths of insurance products such as annuities and life insurance.
Agent University is designed specifically for life and health insurance sales representatives facing challenges in the inter-connected industries of health care and insurance. New laws (state and federal) and changes in the way insurance is bought and sold have challenged the foundation of the insurance industry.
A number of national insurance carriers – including Athene Annuity, Foresters, Mutual of Omaha Life Insurance Company, and Stonebridge Life Insurance – will participate in Agent University.
To register for Agent University, or to find out more about the sessions in Florida, please visit the registration and information website here. Tuition, breakfast and snacks are all free for Agent University enrollees; the only obligations may be travel and lodging. Agent University is sponsored by AmeriLife, the premier annuity, life and health insurance marketing group in America.
Agent University is a sales, training and industry trends seminar and does not offer college degrees or credits. Not affiliated with the U.S. government or the federal Medicare program.