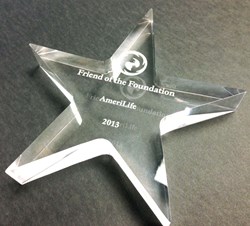 Clearwater, FL (PRWEB) September 23, 2013
AmeriLife®, the Clearwater-based health and life insurance marketing group, was presented UPARC's 2013 Friend of the Foundation award at the non-profit group's 50th anniversary celebratory banquet.
Hosted by UPARC President Jerry Figurski and UPARC Foundation President Ray Bouchard, the annual gathering was held Friday, September 20 at the Sheraton Sand Key Resort. The Foundation's Executive Director, Linda Hamilton, singled out AmeriLife for its support of UPARC through donations of cash and technology, and its sponsorships and volunteerism.
From a continuing contribution to – and participation in – UPARC's annual holiday season Festival of Trees fundraiser to donating scores of computer monitors for use at UPARC's facilities throughout Pinellas County, AmeriLife has joined UPARC's mission to elevate and enhance the lives of cognitively and physically disabled citizens.
"I am honored by the Foundation's recognition of our efforts," said AmeriLife CEO Timothy North. "I know AmeriLife's associates have benefitted from this growing relationship, every bit as much as have UPARC's clients. And I cannot think of a more effective way to better the lives of so many than to partner with this remarkable organization."
Hundreds of UPARC staff and consumers dined with politicians, benefactors and other guests at the banquet, during which awards were presented to volunteers, clients and supporters of UPARC, incorporated in 1963. Headquartered at The Long Center on Belcher Road, UPARC's Foundation is a 501(c)3 non-profit corporation, created in 1982.
Members of AmeriLife's Executive Team and Marketing Communications department joined UPARC consumers at the anniversary banquet.
AmeriLife is the largest annuity, life and health insurance marketing organization in the nation. For additional information, please contact Director of Corporate Communications Wayne Shelor at 727.726.0726 or at wshelor(at)AmeriLife(dot)com.