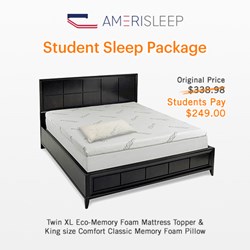 Tempe, AZ (PRWEB) August 23, 2013
Sleeping well and college life are often seen as two incompatible activities as students attempt to balance studying and work with friends and fun. However, sleep proves one of the most important functions for students and every other person. To help students get a healthy start on back-to-school routines, mattress retailer Amerisleep put together an informative article on sleep for students and is also offering limited-time specials on mattresses and toppers.
The guide, titled Back-to-School Sleep Tips for Students, first explains why sleep is crucial, then offers tips on sleeping well during college years with quick tips on selecting mattresses and toppers. While a lack of sleep can hold severe health and safety repercussions for everyone, Amerisleep calls attention to other researched side effects students should be aware of including effects on memory, learning, and grades that may affect school performance.
Sleep suggestions for students in the article include being prepared with a comfortable mattress topper and bedding, earplugs or headphones, and blackout drapes or a sleep mask to avoid disruptions. Other recommendations include establishing a schedule, tracking sleep habits, exercising, and not skipping sleep.
The list of sleep tips is rounded out with an overview of good sleep hygiene habits as outlined by the Harvard Medical School Division of Sleep Medicine website. Amerisleep also provides recommendations on choosing between a mattress topper or new bed, links to another article where they explain sleep styles and mattress firmness, and gives a brief explanation of mattress types.
Kicking off the back-to-school season, Amerisleep also announced a limited-time promotion geared towards college students. The Student Sleep Package promotion includes one Twin XL size Amerisleep Eco Memory Foam Mattress Topper and one king size Comfort Classic memory foam pillow for $249, a savings of over 25%. Amerisleep's Eco Topper features 2.5 inches of 4.5lb density plant-based memory foam with a bamboo blend cover.
Customers can access the deal by adding the topper to their shopping cart and using the coupon code "STUDENT", valid through 9/2. Amerisleep's other current offers include $200 off all mattresses with code "TAKE200" and 10% off accessories with code "TAKE10", both running through 8/26.
Amerisleep, owned by online retail collective OneMallGroup, retails highly-rated memory foam mattresses, adjustable beds and related accessories, in business since 2008. The company defines itself by exclusively offering American-made, environmentally sustainable products at competitive prices. Visit Amerisleep.com for more information.