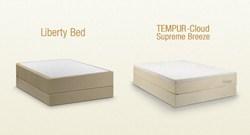 Memphis, TN (PRWEB) August 14, 2013
What's The Best Bed, a blog that researches mattress types and brands, offers its latest installment comparing two memory foam mattresses from leading brands. The article, "WTBB Compares: Amerisleep Liberty Bed vs Tempur-Cloud Supreme Breeze", offers an in-depth, point-by-point examination of the two beds for prospective shoppers.
In the blog, the comparison offers an introduction to each brand and overview of each mattress model. Both the Amerisleep Liberty and TEMPUR-Cloud Supreme Breeze are soft memory foam beds made in the USA whose respective brands tout similar benefits including comfort and cooler-than-average sleep. On the surface, primary differences include memory foam type (Amerisleep uses plant-based memory foam while Tempurpedic uses traditional memory foam material), covers (the Liberty has a bamboo-blend top while the Supreme Breeze has a Cool-Max top) and price (a queen size Liberty bed costs $1199 while the queen Supreme Breeze costs $3199).
The comparison section begins with a reader-friendly table showing the specifications for both beds side-by-side for those who do not want to read the entire piece. What's The Best Bed draws on bed specifications and owner reviews for data, with explanations of sources included.
In addition to the aforementioned differences, the comparison looks at density, response time, odor, heat, and average owner reviews. The Amerisleep Liberty features 4 inches of 4.5 lb density memory foam, and the Tempurpedic Supreme Breeze is believed to use 4 inches of 4.1 lb density foam, though the blog notes that specific density and layer information is not provided directly by Tempurpedic. The Liberty was found to have a faster response time due to temperature neutral properties that enable faster recontouring.
Significant differences are presented in the review analysis of complaints for heat and odor. The 140 samples of Amerisleep Liberty reviews showed that 1.4% of owners complain of heat and 2.1% complain of odor. In contrast, from the 21 review samples ( can we date and provide source?) for the TEMPUR-Cloud Supreme, 14.3% complain of heat and 28.5% complain of odor. Overall in customer reviews, the Amerisleep Liberty received an average star rating of 4.6 and the Supreme Breeze 4.2, both out of 5.
The article highlights that despite the differences, both beds remain above average in overall satisfaction compared to memory foam beds in general, and recommends that readers take into consideration all factors including personal preferences when researching to determine which mattress will best meet their needs.
WhatsTheBestBed.org is a mattress blog dedicated to helping shoppers figure out which is the best bed for their needs. Through easy-to-read, informative posts readers can access information on top brands and a variety of mattress types provided by unbiased, knowledgeable sources. From professional assessments and consumer reviews to coverage of the latest mattress industry headlines, the website provides a wealth of resources to consumers researching beds.