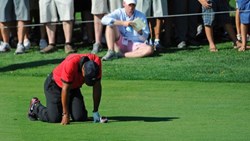 Tempe, AZ (PRWEB) August 29, 2013
In a recent story on USA Today, prolific golfer Tiger Woods chalked his recent performance at The Barclays pro-am up to a bad mattress. When asked why his performance waned in the last nine holes of the course, Woods expressed than overly-soft hotel mattress resulted in a stiff neck and back.
Amerisleep caught wind of Woods' sleep troubles and decided to extend its most popular mattress and adjustable bed in an effort to help the pro golfer get some quality rest. The memory foam mattress retailer is offering to deliver their Revere mattress and Ergo Invincible adjustable base, two products that come highly rated from customers.
The Revere mattress provides a medium-firm sleeping surface, which typically proves ideal when looking for the best mattress for back pain. Memory foam also tends to receive the best ratings for support as the material contours to sleepers' curves, and for pain relief as well since the yielding foam prevents pressure points. Adjustable beds like the Ergo Invincible help further relieve pain, as sleepers can customize the angle of their bed for personalized comfort.
Amerisleep's line of Certi-Pur certified, plant-based memory foam mattresses are designed to alleviate pressure points and pain, with responsive material that contours to sleepers without causing heat build-up or the sensation of being "stuck". The line includes a range of firmness options to accommodate personal preferences and needs, as well as adjustable bases and other sleep accessories.
The Ergo-Star Evolution adjustable bed allows for a wide range of positions and provides advanced technology including massage, backlit wireless remotes, and durable design. One key benefit of this base is the one-touch Zero Gravity position which elevates the user's legs above their heart while maintaining an open angle. The Zero Gravity position places the user's back in a neutral position which helps relieve compression and pressure to reduce lower back pain.
While a little stiffness or soreness can seem minor, it does have the potential to affect people's daily lives and activities, as illustrated by Woods.The concern is not limited to hotel-staying pro golfers either; in fact thousands of people understand the discomfort and annoyance that can come from a bad mattress. For those like Woods seeking more comfortable beds, over 420 reviews of Amerisleep mattresses, over 91% specifically mention comfort as a benefit, and over 97% would recommend the brand to their friends.
Amerisleep, owned by online retail collective OneMallGroup, retails highly-rated memory foam mattresses, adjustable beds and related accessories, in business since 2008. The company defines itself by exclusively offering American-made, environmentally sustainable products at competitive prices. Visit Amerisleep.com for more information.