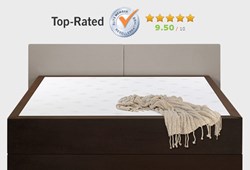 Tempe, AZ (PRWEB) October 09, 2013
Reviews and ratings continue proving important for consumers researching products and navigating the online marketplace. From brand websites, to blogs, to review websites, consumers have many potential sources, though one of the more popular options remains third-party consumer review communities.
Recognizing the importance of reviews for potential customers, memory foam mattress retailer Amerisleep.com takes pride in excellent owner reviews on their website, and is proud to announce that they have become the top-rated memory foam brand on ResellerRatings.com, a distinction based on over 300 reviews and their Elite Member Status. Reseller Ratings is a popular, established review community that allows consumers to leave and compare ratings for online retailers.
Amerisleep's current rating of 9.5 out of 10 on Reseller Ratings places the brand among the top retailers online, and positions it as a top-rated memory foam mattress retailer. Consumers have left over 300 reviews for the website since 2012, with highest marks received in the categories of Chance of Future Purchase, Customer Service, and Product Pricing.
Reseller Ratings has also awarded Amerisleep its Elite Member Status, a designation given only to brands that actively participate and monitor reviews, maintain a lifetime rating of 8.0 or above, and have a minimum number of reviews.
"As an online retailer, Amerisleep recognizes the importance of reviews to prospective customers. We strive to ensure the integrity of reviews on our website in order to maintain consumer trust and to help customers make accurate buying decisions. We are pleased that our customers continue to rate our mattresses highly on Reseller Ratings, and will continue monitoring feedback and improving," states, Joey Holt, Amerisleep's Director of Operations.
The reviews on ResellerRatings.com largely match opinions on Amerisleep.com, which boasts over 470 memory foam mattress reviews with an average of 4.6 out of 5 stars. Analysis of the reviews highlights potential advantages identified by customers as lower than average complaints of heat retention and odor, pain relief, helpful service, and excellent comparative value. Amerisleep's beds utilize plant-based, CertiPur certified foams, with prices starting at $649.
About Reseller Ratings: Reseller Ratings is a popular review community that allows consumers to leave ratings and compare online retailers, with data encompassing over 60,000 stores and over 2.2 million reviews. They have cemented their reputation as a trustworthy source over 15 years in operation with extensive fraud protection measures and a guarantee that companies cannot pay to change or remove reviews.
About Amerisleep: Amerisleep, owned by online retail collective OneMallGroup, retails highly-rated memory foam mattresses, adjustable beds and related accessories, in business since 2008. The company defines itself by exclusively offering American-made, environmentally sustainable products at competitive prices. Visit Amerisleep.com for more information.