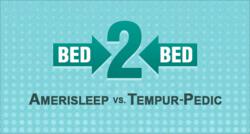 Newark, NJ (PRWEB) July 01, 2013
Mattress education blog BedEd.org compares two leading memory foam brands in their latest post, "Bed to Bed: Amerisleep vs Tempurpedic." The post is the first of the blog's Bed to Bed series, which will feature leading mattress brands, models and types in direct comparisons, a play on the phrase head-to-head. Designed to facilitate comparison shopping for consumers, the series will weigh the pros and cons of beds based on their features and reviews.
This blog post looks at two brands, Tempurpedic, the traditional memory foam leader, and Amerisleep, which specializes in plant-based memory foam. After providing a brief introduction to each brand, the comparison begins with a table offering grades for eighteen different points which Bed Ed follows with detailed explanations.
The categories Bed Ed compares include factors related to value like price, quality, durability and construction; comfort factors like response time, pressure and pain relief, motion transfer, love-friendliness, and heat; chemical concerns like odor, healthiness, and eco-friendliness; and brand factors like warranty, availability and customer service.
Significant differences are highlighted between the brands, especially with price, sleeping hot, off-gassing, and environmental-friendliness. On other dimensions such as construction, comfort, durability and store policies, the two memory foam mattress lines prove more similar.
Bed Ed compiled the total mattress reviews available on each brand's website as well, resulting in an weighted average review score of 4.61 out of 5 for Amerisleep and 3.55 out of 5 for Tempurpedic. Final grades came out to an "A" for Amerisleep and "B" for Tempurpedic, based on the seventeen factors compared an ultimately mirroring the consumer ratings.
Comparing Amerisleep vs Tempurpedic with Bed Ed's article offers helpful information for prospective buyers of either brand, or memory foam in general. The well-researched information is presented in a simple format, enabling readers to make quick comparisons and identify preferable options. The website also offers helpful articles on a range of mattress types and sleep information.
BedEd.org is a mattress education blog dedicated to providing informational resources to shoppers. The blog features impartial assessments of mattress types, brands, and other sleep related products, developed via first party research, third party reviews, and expert research and opinion. In addition, readers receive useful sleep quality tips and news on the latest mattress developments.