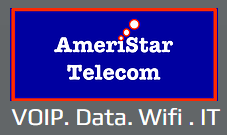 We are dedicated to providing top-quality customer support for all of our clients.
FORT LAUDERDALE, Fla. (PRWEB) February 27, 2015
AmeriStar Telecom recently installed an efficient, cost-effective new phone system for the Hollywood Chamber of Commerce in South Florida.
The Hollywood Chamber of Commerce contract provides brand new phones using AmeriStar's cloud-based PBX system, while saving 30 percent on the Chamber's monthly bill.
AmeriStar's cloud-based telephone and PBX Voice Over Internet Protocol (VOIP) system is a cost-effective solution for telephone service. Their VOIP solutions range from basic one line plans to multi-line unlimited plans. Call clarity and quality is also guaranteed to surpass the average phone company.
"The cost savings along were reason enough to switch over to AmeriStar, but it is our feature set that comes with the cloud PBX which sets us apart from the traditional phone company," said Armando Estrada, President of AmeriStar Telecom. "Almost all of our features are included at no extra cost."
Some of these features include: hunt groups, an auto attendant, music while one is on hold, unique music while one is on hold, presence management, simultaneous ring, call forward, scheduling, holiday scheduling, and voicemail, among others.
"The final piece is AmeriStar's responsiveness and customer service," Armando continued. "We are dedicated to providing top-quality customer support for all of our clients."
The Greater Hollywood Chamber of Commerce represents local business interests, promotes economic growth, provides leadership in community affairs, and delivers services and programs for its business members.
About AmeriStar Telecom
Founded in 2000, AmeriStar Telecom is a South Florida innovative cloud communications provider. AmeriStar specializes in cloud-based (VOIP, or Voice-Over Internet Protocol) telephone service and internet connectivity. Based out of South Florida, AmeriStar offers companies the expertise and responsiveness of a local company but with a global reach. At AmeriStar, we understand that companies want to stay on budget while, at the same time, utilizing our systems that are backed by Fortune 500 voice and data companies. Although most of our clients are based in South Florida, we do supply branch offices located in other parts of the United States, Central America and South America.
For more information, please visit http://www.ameristarcloud.com/ or call 954-251-0941.
###