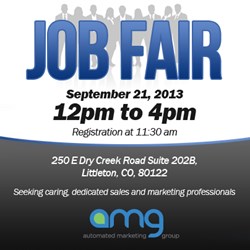 'We're excited to meet the caring, dedicated professionals in our community,' said David Rogers, President of AMG. 'Since the beginning, our goal has been to help small business owners, and it's exciting to see that mission lead to this growth.'
Littleton, CO (PRWEB) September 12, 2013
Fourteen years ago, Terry Keller and David Rogers began their mission to help small business owners get the training and marketing they need to be successful. That dream has grown in ways the owners could only have imagined. Their company, Automated Marketing Group, is preparing to cut the ribbon on a new sales office and they're eager to find a team to fill out the new location.
On Saturday, September 21st, from 12:00 to 4:00 p.m., Automated Marketing Group (AMG) is holding a job fair, and is inviting anyone interested in sales or marketing to bring their resume and interview with the team.
AMG is seeking skilled team members for both their sales and marketing teams. "We're excited to meet the caring, dedicated professionals in our community," said David Rogers, President of AMG. "Since the beginning, our goal has been to help small business owners, and it's exciting to see that mission lead to this growth."
Automated Marketing Group is a full-service marketing agency, offering comprehensive marketing for small businesses from direct mail to social media to web design and more, as well as training and management solutions.
Since it was founded in 2001, AMG has blended its mission to help small businesses with its goal to create a healthy, employee-friendly job environment. The company's management team was cultivated internally, and together with ownership, have created opportunities for employee growth. This includes "10% Time," a weekly chance to work on projects that matter most to each employee, modeled after companies like HP and Google.
Those interested in attending the job fair are encouraged to visit http://www.longtermfix.com/hiringfair to learn more about Automated Marketing Group and about the positions for which they're accepting applicants. Walk-ins to the job fair are welcome; simply bring a resume to 250 E. Dry Creek Rd. Suite 202B in Littleton on Saturday, September 21st. Call 1-866-520-3030 for more information.
If you'd like more information about Automated Marketing Group or their job fair, please call Jake Keller at 303-703-8000 or email him at jake(at)longtermfix(dot)com.