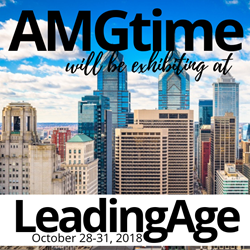 PHILADELPHIA (PRWEB) October 16, 2018
AMGtime will be exhibiting at the LeadingAge Annual Meeting and Expo from October 28-31 at the Pennsylvania Convention Center. At booth 1940, AMGtime will showcase time, labor management, and scheduling solutions including cloud and PC based software, biometric devices, mobile app, as well as their specialized Skilled Nursing Facility module.
Designed to appease common pain points that arise for labor management in Skilled Nursing Facilities, AMGtime built out a module that monitors Nursing Hours Per Patient Day (NHPPD) in real time, generates a XML output formatted for Payroll-Based Journal (PBJ ) specifications, as well as provides countless reports to help maintain compliancy. The module also accounts for CNA hours within NHPPD since some states such as California require a certain ratio.
Skilled Nursing Facility solutions extend into hardware as well. AMGtime offers several biometric clocks that help accurately track actual hours worked per day within jobs and departments.
Aside from specialized solutions, AMGtime also provides an impressive repertoire of scalable time and labor management solutions. These solutions range from AMGtime Workforce Scheduling to tracking remote employees via GPS tracking and geo fencing through the mobile app. Consistency, innovation, and agility make AMGtime a preferred industry partner for many. Stop by the booth to experience all these solutions in person.
The LeadingAge Annual Meeting is the nation's largest event for non-profit aging services. Every year healthcare specialists and business professionals gather to find innovative solutions to better their business operations. Organizations like AMGtime have been attending LeadingAge conference for years to share efficient solutions for workforce management. Many activities and opportunities are offered at LeadingAge like networking opportunities, education sessions along with keynote speakers.
Visit booth 1940 to learn what AMGtime has to offer, while you're there enter the $100 Amazon Gift Card giveaway.
About the Company
AMGtime is a national leader of time, attendance, and scheduling solutions used for workforce management. In addition to customizable and scalable software on both cloud and PC, AMGtime offers a variety of biometric devices and mobile applications. AMGtime is recognized as a preferred partner across multiple industries such as skilled nursing, staffing, and construction, due to their innovative industry specific solutions. With an open API, AMGtime can be bridged with payroll, HR, and other external software solutions. AMGtime's offerings are customizable and adaptable for basic to complex configurations, and simple to implement, providing organizations with the highest level of efficiency and ROI. For more information visit http://www.amgtime.com.