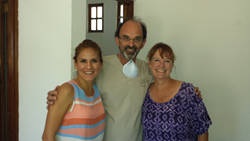 Cabo San Lucas, Mexico (PRWEB) May 12, 2015
With the assistance of Dr. Greg Psaltis and his wonderful team, Amigos De Los Niños recently completed its Free Dental Clinic. This completed the 10th year that Dr. Psaltis generously donated his time and valuable skills to help improve the lives of children in the Los Cabos community. 65 children were treated at the dental clinic, which equated to over $25,000 in pro bono work. Among the services provided were routine teeth cleanings, fluoride treatments, many fillings and crowns were made and necessary extractions were also handled.
Over the past decade in which Dr. Psaltis has visited and donated his time, he has brought several teams of professionals to Los Cabos who assist with the free clinics. This year Patricia, a recent graduate who will be practicing Pediatric Dentistry, assisted at the clinic as did Wendy, a dental hygienist. Together the team was able to help improve the lives of children who desperately need these dental services. Amigos De Los Niños would like to again thank Dr. Psaltis and his team for the wonderful service they continue to provide the children of Los Cabos.
Amigos De Los Niños is also excited to report that the building project is moving along on budget and on schedule! This exciting new project will be the location of future dental clinics and provide a space where many more children can be treated. The new space will also provide future educational seminars on the importance of oral hygiene and regular maintenance. The new ADLN dental suite will feature 3 portable dental chairs, which essentially allows for three times the amount of work to be performed. Having the space available will also allow for more clinics to be held throughout the year. In the past, the charitable organization Niños Del Capitan had graciously donated their space for these clinics to be held and the dentist also treated their students.
As the construction project progresses, the excitement builds at the prospect of all of the services which will soon be so readily available and no doubt have a major positive impact on the lives and health of the children in Los Cabos! Amigos De Los Niños will begin planning the next dental clinic for May to be hosted at the new ADLN Clinic along with the ENT Audiology and Pediatric Cardiology clinics, so stay tuned for more information.
About Amigos De Los Ninos –
ADLN helps provide quality healthcare for children up to the age of 18 who have no other means of receiving treatment or are dealing with a deficient healthcare provider. ADLN assists with special cases of children fighting cancer, dealing with cardiac or other challenges in returning their health and life to normalcy. Based in Cabo San Lucas for the last 24 years, ADLN works hard to assure no child in Baja California Sur goes without medical treatment. ADLN also hosts a series of annual free clinics as well to help improve the lives of children in Los Cabos and BCS. Please visit http://www.adlncabo.org to donate and learn more about ADLN.
Press release distributed by JW Maxx Solutions, a leader in content management solutions.