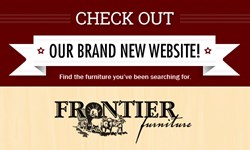 If you appreciate high-end, quality furniture, come and see us at our new location in Overland Park, Kansas.
Overland Park, Kansas (PRWEB) August 28, 2013
The addition of Frontier Furniture's new website allows individuals to order family heirloom furniture directly from home at the same low costs. The new website also provides all the convenience of shopping in a physical store location combined with the comfort of shopping at home. All of the magnificent designs available in the showroom are accessible on the website for web users to view and purchase online. In addition, custom design work is available.
The website offers a wide variety of furniture, as well as jewelry boxes, armoires, and outdoor furniture made out of recycled polylumber. It also allows access to the full range of pre-designed furniture, helpful furniture care tips and the various woods and stains available. If the customer doesn't find what they're looking for, they can always contact Frontier Furniture for a special order.
Frontier Furniture's handcrafted Amish furniture from Kansas is unparalleled compared to other local furniture makers. The Amish craftsmen will carefully hand make furniture to an individual's unique specifications using beautiful hardwoods such as oak, cherry, hickory and more. Frontier's website allows customers to indicate their specifications on an online form.
Frontier's furniture is built from solid wood, not veneer or particle-board, with particular attention to details like crafting dovetailed drawers. Exclusive designs are found here and the woods and stains are incomparable. The convenience of shopping online combined with these choices puts Frontier a cut above the rest.
Customers should consider ordering a bedroom set like the "Louis Philipe Bedroom 2" pictured in the bedroom furniture category. This furniture is the highest-quality Amish bedroom furniture Kansas has to offer. If one would like to modify an order, click on the "Request a Quote" button to go to the ordering instructions page and send a specific order. Frontier Furniture will call if there are any questions, or they will send the quote back directly.
Whether buying for a home or office, Frontier Furniture has a particular piece suited to meet the needs and exceed the expectations of their customers. Frontier's owner, Vernon, supports this claim by stating, "If you appreciate high-end, quality furniture, come and see us at our new location in Overland Park."
All this in one convenient location: the Frontier Furniture website. Explore and find out in person at http://www.frontierfurniturellc.com/ or stop in and visit our showroom at 8025 West 151 Street, Overland Park, KS, 66223.