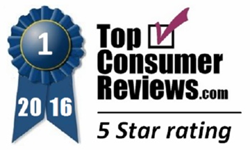 If you're looking for high-quality Amish Furniture that's priced right, look no further than Online Amish Furniture.
Overland Park, KS (PRWEB) November 21, 2016
TopConsumerReviews.com recently gave a best-in-class 5 star rating to Online Amish Furniture, a leader among Internet retailers of Amish Furniture.
For customers who are tired of flimsy particleboard shelving units and kitchen tables with veneers that quickly deteriorate, Amish Furniture is a fantastic alternative. Handmade and built to last, Amish Furniture is usually crafted in Pennsylvania, Ohio, or Indiana by family-owned and operated businesses that have passed down their skills for generations. While it used to be difficult for shoppers outside of Amish country to find such furniture for sale, online Amish Furniture stores now make it possible to find the perfect dinette set, TV stand, and much more with just the click of a mouse.
"If you're looking for high-quality Amish Furniture that's priced right, look no further than Online Amish Furniture," stated Brian Dolezal of TopConsumerReviews.com, LLC. "Their website has an amazing variety of options, from complete dining and bedroom sets to smaller items like chairs. Shoppers can easily customize their furniture purchase to be a perfect match for their home decor, choosing the type of wood, stain color, finish and coverings that they prefer. And, Online Amish Furniture goes the extra mile to make it even more affordable to own such quality furniture with discounts ranging from 2% to 10% on purchases over $1,000. For all of these reasons, we are pleased to give Online Amish Furniture our top rating among retailers of Amish Furniture in 2016."
To find out more about Online Amish Furniture and other sellers of Amish Furniture, including reviews and comparison rankings, please visit the Amish Furniture category of TopConsumerReviews.com at http://www.topconsumerreviews.com/amish-furniture/.
About Online Amish Furniture
In business since 1998, Online Amish Furniture specializes in solid wood handcrafted Amish built furniture. They have over 150 builders working for them while taking great pride in their craft. All of the furniture sold by Online Amish Furniture is harvested, constructed, finished and packaged in Ohio or Indiana by skilled craftsmen.
About TopConsumerReviews.com
TopConsumerReviews.com, LLC is a leading provider of independent reviews and rankings of hundreds of consumer products and services. From Amish Furniture to Bunk Beds and Home Security Systems, TopConsumerReviews.com delivers in-depth product evaluations in order to make purchasing decisions easier.