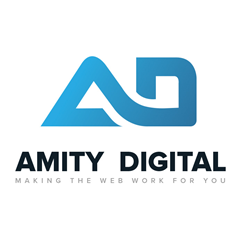 The story used to be that you need a website because everyone else has one. We believe that isn't enough. We believe you need a website and a plan to make that website drive business to your doorstep.
DOUGLASSVILLE, Pa. (PRWEB) February 28, 2019
Amity Digital, a local website design and hosting firm boasting unparalleled friendliness, is officially open for business. Focused on improving the online presence of smaller Berks County businesses, Amity Digital creates gorgeous websites and enacts proven marketing strategies – strategies that increase customer traffic and enhance customer satisfaction.
Secret Origins
Brian and Tiras met during their successful tenure at Superherostuff, a local business with its infrastructure firmly planted in Sinking Spring, PA. Brian Welch (former co-owner) and Tiras Buck (former executive) helped take this fledging, challenging business and turn it into the largest online retailer of superhero-themed merchandise.
Having taken Superherostuff to heights only previously attained by Superman, Tiras and Brian decided it was time for a brand-new adventure: to create a website design and digital marketing firm dedicated to smaller, local businesses and ecommerce websites.
Unlike Batman, they're easy to find.
So, if you're thinking about building a website, tweaking your current, slightly embarrassing website, and/or making your website stand out in an overcrowded online marketplace, give Brian and/or Tiras a call. They'll be happy to hear your ideas, listen to your concerns, and detail their services and experience.
Oh, and they'll probably ask you to name your favorite Avenger. Warning: they may snicker involuntarily after hearing your answer.
You can find out more about the ridiculously friendly folks at Amity Digital right here -- https://amitydigital.com/
Want to talk to Brian or Tiras about your next big project? Seriously? Okay, you asked for it:
Tiras Buck, Director of Sales (aka, "the short one") :
Email: tiras@amitydigital.com
Phone: 215-801-0290
Favorite superhero: Iron Man
Brian Welch, President and Developer (aka, "the tall one"):
Email: brian@amitydigital.com
Phone: 610-698-5924
Favorite superhero: Tiras