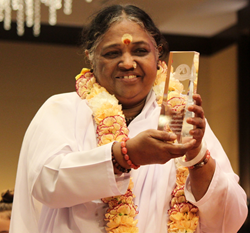 'Amma's spiritual hugs and charitable works…have helped her to become what many consider, a living saint.' ~ Los Angeles Times
Los Angeles, CA (PRWEB) June 15, 2015
Humanitarian and Spiritual Leader Mata Amritanandamayi, better known as "Amma," received distinguished honors on Sunday with a Golden Goody Award for her Worldwide Humanitarian Charities at the LAX Hilton. Considered a living saint in her homeland of India, Amma (61) has gained an extraordinary reputation over the past 40 years for her personal outreach and extensive charitable institutions, collectively known as "Embracing the World."
Amma, dubbed "The Hugging Saint" by the international press, received this humanitarian and service award for her life of selfless service and compassion before receiving thousands with her blessing - a healing embrace. She has been expressing her compassion this way since she was a teen, giving an estimated 35 million hugs worldwide. Amma, who sleeps only a couple hours per day, teaches by the example of her own life, and is considered the most influential contemporary woman religious leader. In December 2014, she was invited to the Vatican by Pope Francis to sign a universal declaration to end human slavery and trafficking.
"Mata Amritanandamayi … is fast becoming a world-renowned spiritual leader like Mother Teresa or Mohandas Gandhi." ~ Reuters News
Goody Awards Founder Liz H. Kelly presented the lifetime achievement award by emphasizing, "Amma is a global role model who has touched the hearts of millions demonstrating that a life dedicated to selfless love and service to humanity is truly possible. We are humbly honored to present Amma with our top Golden Goody Award."
Over the last 15 years, Amma has emerged as a leader in disaster relief, having deployed vast resources to hotspots ranging from the earthquakes in Nepal, Japan, Haiti, and Gujarat and to help repair the devastation from cyclones and hurricanes such as in Mumbai, West Bengal and New Orleans. With official NGO status granted by the United Nations, Amma oversees a vast network of volunteer humanitarian activities of three distinct types: 1) direct aid to the needy, 2) educational institutions designed to help the underprivileged learn to help themselves, and 3) social programs that serve broader society and the environment. These are summarized at the website: http://EmbracingtheWorld.org.
For her endless energy and devotion to help others, Amma has been praised by leaders worldwide:
"Amma and my father are kindred spirits." ~ Yolanda King, daughter of Rev. Martin Luther King
"Amma presents the kind of leadership we need for our planet to survive. This is the most heroic person I've probably ever met." ~ Alice Walker, Pulitzer Prize Winner
"Amma has done more work than many governments have ever done for their people…her contribution is enormous." ~ Prof Muhammad Yunus, 2006 Nobel Peace Prize Winner and Founder of Grameen Bank
"Amma's spiritual hugs and charitable works…have helped her to become what many consider, a living saint." ~ Los Angeles Times
Though born into the Hindu faith, Amma steadfastly supports all great religions, encouraging aspirants to go deeper into their own traditional paths. "There is no harm in having many religions and faiths," she says. "But it is harmful to think they are different, and that one faith is higher and another lower."
During her North American Tour, Amma will be visiting 11 cities from May 30 – July 20, 2015. More information can be found at Amma.org.
About the Goody Awards:
Goody Awards™ mission is to inspire positive change by recognizing and promoting the good in the world in four Eco Social areas: Environment, Education, Health and Women Empowerment. A Golden Goody Award is their top award, and is "like an Oscar for Social Good." This lifetime achievement award is usually presented at live events to raise awareness of social impact leaders and great causes. Previous Golden Goody Award winners have included Nobel Peace Prize Nominee Sir Nicholas Winton, UN Goodwill Ambassador Ian Somerhalder (Ian Somerhalder Foundation), Unlikely Heroes Founder Erica Greve (who travels globally to rehabilitate women) and more. The Goody Awards has an international Advisory Board, and fans tweet @GoodyAwards from 30+ countries to recognize good daily 24x7 using 20 different award categories with hashtags (ex. #HeroGoody). http://goodyawards.com