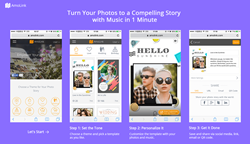 AmoLink empowers everyone to show photos in a dynamic, engaging, and fun way.
Xiamen, China (PRWEB) April 25, 2017
Recently, Aomy Link Technology Co. has launched the online photo storytelling web application - AmoLink Version 2.0, which enables individuals and business to create stunning photo stories. In this version, AmoLink delights users with a simple design flow and intuitive interface that look great on any devices.
Fully based on the latest HTML5 technology, AmoLink debuted as a photo show maker in 2014, which empowers everyone to show photos in a dynamic, engaging, and fun way. Users can easily make animated greeting cards, invitations, collages, photo albums, photo books, resumes, presentations, infographics and so on with music.
This year, AmoLink makes creation even easier. "Users can make beautiful and professional-looking visual stories at fingertips," remarked AmoLink team. "In this version, we optimize the editing mode to reduce users' learning curve as much as possible. That's why even for people who have zero design skills can make something amazing with AmoLink."
"People often say that a good picture is worth a thousand words, but it does not always turn out like that. Most of the time, what a photo can tell is really limited. Thanks to the smartphone, now we can easily take hundreds of thousands of digital photos. However, not much people really know how to make those special moments sparkle. Instead of the typical jumble of different photos on Instagram, a photo story will make a great difference. In contrast with Snapchat's trendy idea of burning after reading, AmoLink seeks for extension of personal moments and flicking that photos can bring back the forgotten memories."
"AmoLink is changing its role from a photo editor to photo storyteller," Beank Tong, the founder and CEO said. "For individuals, all memorable moments can be preserved through a photo story, no matter adventurous travel, tearful wedding, family gathering, and holiday celebration etc. For business, AmoLink is an excellent content creator to tell visual story for brand that engages targeted prospects, such as company profile, promotional campaign and product demo."
Key features of AmoLink include:
Easy Editing Mode
AmoLink's easy editing mode makes design process a no-brainer. Users can handle it with smoothest drag-and-drop manipulation, and it only takes 1 minute to create a wonderful work. How come? AmoLink has massive designer-made templates in a variety of aesthetic and tones for all occasions, such as birthday cards, wedding invitation, love story, baby photo show, family photo book etc. Users can easily customize these templates to their owns. Just pick a template, add photos, and then let AmoLink do the rest - a stunning photo story with music will come out automatically. If users want high-level functionality with more control and flexibility, AmoLink also provides the full feature mode. Users can visit http://www.amolink.com/create/ to achieve more.
Powerful Tools
Users are able to access all of the powerful editing tools, in addition to massive ready-to-use templates in different themes, users can start from scratch by using huge variety of animated effects, artistic fonts, fun stickers and more. The use of various animation effects are visually impressive, and making every work standout. For every occasion, AmoLink handpicks quotes to make sure users always have the right words to say while expressing feelings and sentiments.
Besides, users can add photos, music and videos to spice up their photo shows. AmoLink has a huge selections of free images and music for users, meanwhile, users can also upload their owns as needed. Users are given not just enough of a starting point to take out the automated photo show, but enough flexibility to create something unique.
Mobile-friendly
With the HTML5 technology, the team builds a fully functional and responsive website that provides an optimal viewing and editing experience via a wide range of devices - mobiles, tablets and computers. The mobile-optimized website interface empowers users to edit on mobile devices just as easy as on desktop, which makes the idea of editing and sharing visual stories on the go possible.
Instantly Shareable
As a simple image is not that expressive and a short video is not that shareable, AmoLink photo story resolves the dilemma. It's easy to share photo stories with anyone and anywhere simply with a link, as well as email, QR code, and social media platforms. Beyond that, a stunning photo story will help individuals to get more likes and shares on Facebook, Twitter, Pinterest, LinkedIn etc.
The same goes for business. Posting on social media is a common way to pull in business leads, however, simply displaying photos one by one can never grab much attention. Instead of the typical jumble of different photos on social media, AmoLink enables users to create an appealing visual story which will get more engagement and make more product demos or marketing campaigns end up as deals.
No Software Required
Tired of downloading an app for every other thing you need? AmoLink knew how annoying it could be. That's the reason why AmoLink is a web-based platform from very beginning, which means it can be run directly in browsers without installing any software or app. AmoLink team uses all the shiny, new pieces of the HTML5 draft to create an app-like experience or even better.
AmoLink is free and available for all browsers and devices now. Users can start creating free online photo story in a real sense - no credit card and no app download required. Just visit the website http://www.amolink.com to start.
###
About Link
Amoy Link Technology Co. is an innovative software company dedicated to delivering the very best software products and services to individual users and businesses.
About AmoLink
AmoLink is a brand under Amoy Link Technology Co. based in Xiamen specializing in visual storytelling with photos. The team has a passion for helping people to tell compelling stories for memorable moments, as well as for brand and marketing. No matter the occasion, you can always find what you need at AmoLink. For more information, please contact us via email.