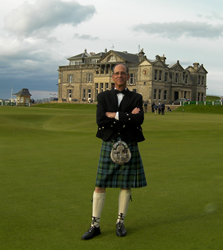 It's my privilege to be hosting A Month of Masters on TheGolfDirector.com and to be interviewing these amazing history-makers.
North Myrtle Beach, South Carolina (PRWEB) March 05, 2014
Beginning March 3rd and running through the second week of April, 2014, Golf Connections host, Mitch Laurance, will broadcast on TGD Radio (from TheGolfDirector.com) a series of interviews with some of the most iconic names in the game of golf. Connecting them to The Masters Golf Championship and Augusta National, Laurance will interview Ben Wright, Peter Alliss, Dottie Pepper, Geoff Shackleford, Fluff Cowan, John Patrick, Frank Christian, Billy Casper and more as the list grows leading up to the series' beginning. Each interview will be aired live, placed into a replay schedule, and archived for listen on-demand.
Golf Connections connects the history, traditions, champions and people of the game, then and now, on TheGolfDirector.com. Throughout his career as actor, ESPN Sports commentator, and television host, Mitch Laurance with his love for the game of golf has indeed made some interesting connections. He shares his love of the game, its history, and friends through his radio show, Golf Connections. To hear any of his earlier shows, CLICK HERE.
TGD Radio launched January 2013 and broadcasts regular weekly golf talk radio programming from their studios in North Myrtle Beach, SC on TheGolfDirector.com. In their first year on the air, the network has reached 161 countries, all 50 United States, over 20,000 cities and generated over one million interactions. Mitch Laurance joined the broadcast team in June of 2013.
A Month of Masters has been made possible by title sponsor East Coast Golf Management. East Coast Golf Management specializes in golf facilities management and ensures maximum asset performance for their clients. For more information about East Coast Golf Management, visit their site at http://eastcoastgolfmanagement.com.
To view the A Month of Masters promotional video, CLICK HERE.