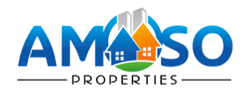 From November to late December, Amoso Properties typically collects financial donations and toys from property owners, investors and community members.
St. Louis, MO (PRWEB) November 25, 2014
On December 20, Amoso Properties will be holding their fourth annual Amoso Christmas Delivery. Created to give back to the less privileged tenants Amoso Properties manages, the company will be delivering Christmas hams and toys to more than 60 homes and families. As the countdown to their planned delivery draws closer, they are encouraging anyone who is interested in giving back to the community to participate.
Amoso Properties traces the Christmas Delivery dates back to their beginnings as a smaller company.
"When we only managed 20 properties, most of our properties were low income housing and we wanted to come up with an idea that would help the less fortunate," said Joe Ord, President of Amoso Properties. "This seemed like a good way to give back, especially at the end of the year. We've had some success and we wanted to share it."
From November to late December, Amoso Properties typically collects financial donations and toys from property owners, investors and community members. Nerf footballs, dolls, basketballs, footballs, soccer balls, and toddler and baby toys are usually popular items. Then, a week before the delivery date, the financial donations are used to buy whatever else the event needs, including the Christmas hams.
"We have always gotten hams from Aldis," said Ord. "We have to call ahead of time and have them put in a special order for us because we need so many."
Amoso Properties also wraps all of the presents before delivery. While Ord says that he, the company's property managers and the maintenance staff usually wrap and deliver the gifts, some volunteers also come to help.
"Last year, we had over 50 properties, the most we have ever delivered to, and we actually did it in the fastest time ever because we had so many volunteers," said Ord. "It is never hard to find volunteers to help out because this is such a good cause."
With plans to deliver to more than 60 properties this year, Amoso Properties is encouraging any interested volunteers to help them achieve similar results.
"There's no such thing as too many donations or volunteers, so if you'd like to get involved, please contact us," said Ord. "We always welcome new people to join. The more the merrier!"
In spite of the growing number of deliveries, donations and volunteers, however, Amoso Properties still remembers why they originally started their Christmas Delivery.
"We thought of this idea four years ago when we were a smaller company, and that's when it all started," said Ord. "As we grew larger and became more successful, we wanted to continue to share our success with our community. We sincerely care about our tenants and this is the perfect way for us to show just that."
To make a donation to the Amoso Properties Christmas Delivery or participate in wrapping and delivering gifts, contact the company by phone or email to ask about the event.
About Amoso Properties:
Amoso Properties is a property management firm located in St. Louis, handling various types of partners and helping all of them to participate in the growing investment property market. To learn more, visit http://amosoproperties.net.