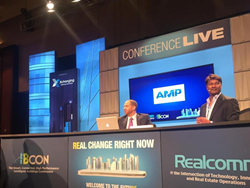 "AMP is injecting the industry with excitement and innovation through powerful, revenue gaining products and a user experience that is second to none." -Brice Myers, Branding and Marketing Manager
Mountain View, CA (PRWEB) June 17, 2015
AMP Technologies has proven over and over again that their Asset Management Platform is the most complete piece of software for managing Commercial Real Estate. The AMP fully digital solution offers unprecedented control over Commercial Real Estate assets giving investors, owners, and operators the freedom to run their companies the way they choose, all while lowering operating costs and raising revenue. Now, trailing a string of industry changing announcements and events like their sponsorship of Realcomm 2015 and the San Antonio Mobile App, AMP unveils a new face for their innovative company. The new AMP website offers a stunning user interface that is easy to use and gives interested users a direct path to the platform that is changing the entire Commercial Real Estate Industry.
See the stunning website update – CLICK to view the new AMP site
The new AMP website can be found at http://www.theamp.com. The site features stunning graphics, a simplified user interface, and a complete walkthrough of AMP's Asset Management Platform and AMP's service offerings. The AMP website can be used to learn about services including Due Diligence, Finance and Accounting, Lease Administration, and the Services Dashboard. Users will also find the complete product offering including:

AMPPipeline Mobile App
UBERMANAGER
AMPIntelligence
AMPLease
AMPPipeline
AMPStack
AMPFiles
AMPServices
Brice Myers, Branding and Marketing Manager, "AMP offers new tech that makes the lives of Commercial Real Estate professionals easier on a day-to-day basis. Such a powerful and game changing product deserves to be represented with stunning graphics and a simplified user experience. This website release not only updates the AMP brand, but lays the groundwork for the design of future product releases. AMP is injecting the industry with excitement and innovation through powerful, revenue gaining products and a user experience that is second to none."
Innovate Commercial Real Estate with AMP – CLICK to explore theamp.com
Recently, AMP announced the forthcoming AMPPipeline Mobile App as a part of the San Antonio Release. The announcement was made at Realcomm where AMP introduced thousands of conference guests to the Asset Management Platform. Guests learned about the renewed ability to gain revenue by lowering operating costs by 50-60% and raising occupancy rates. AMP's CEO, Neel Naicker contributed to a packed house panel on the topic of integrating IoT into ERP operating systems. Neel also shared the the power and innovation of AMP with Realcomm's Conference Live webcast. The AMPPipeline Mobile App, due out in mid-June, places the power of the entire AMPPipeline in the hands of leasing agents at no cost. AMP users will gain unlimited access to the AMPPipeline while on the go, gaining the ability to add new prospects, share images of vacant spaces, and guide prospects from lead to tenant with ease.
Get the latest in Mobile Tech – CLICK to learn more about the San Antonio Release
About AMP Technologies
A high rise building is more than its lobby and its penthouse. Every level in between makes up the life of an asset, and every space, whether vacant or occupied, contributes data to understanding the needs of a building. AMP technologies powerful platform places all the data, from the bottom floor to the top, in the hands of Commercial Real Estate Professionals. Whether an Investor, owner, or operator, the AMP platform provides unprecedented control over the financial and leasing health of commercial office space, retail assets, warehouse investments, multi-family, and student housing. AMP is the only complete asset management software for Commercial Real Estate, and gives users the power to see the health of an entire portfolio within 30 seconds.
AMP continues to see top Commercial Real Estate organizations request to sign up for their innovative platform and utilize their cost effective service offerings around due diligence, property accounting, lease administration, asset management and data standardization. AMP combines best-of-breed performance with speed and accuracy. Their company is built on what clients need to make their job easier – simplicity is at the core. Intuitive and innovative solutions drive a profitable business; this is what AMP delivers.
Visit AMP Technologies – CLICK HERE
Headquartered in Mountain View, California, AMP Technologies provides a suite of products and services for commercial real estate asset management. The AMP Technologies Platform is a powerful, yet highly intuitive, platform to monitor and manage individual properties and large portfolios. Its products are built on best-of- breed cloud technology and are designed for the modern enterprise to provide sophisticated business intelligence, collaboration and management tools. With a comprehensive, yet highly intuitive, platform for monitoring and managing individual properties to entire portfolios, AMP provides the key tools needed for every level of management for effective analysis and decision-making.