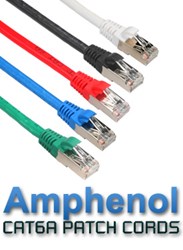 Endicott, NY (PRWEB) October 09, 2013
Amphenol, the world's second largest interconnect manufacturer, recently expanded their network and data center product portfolio to include high-performance Shielded Category-6A (CAT6A) Patch Cables through its exclusive online subsidiary, Amphenol Cables on Demand (http://www.CablesOnDemand.com). Tested to 650-MHz, these bandwidth-optimized CAT6A Shielded FTP (Foil-Screened Twisted Pair) Patch Cable Assemblies are ready for 10-Gigabit Ethernet (10GbE) network deployments; offering IT professionals, installers, or their clients a fully-scalable cabling infrastructure with a viable service life of up to 25 years. Amphenol Shielded CAT6A Patch Cords are available direct to the general public with no minimum buy requirement in some of the industry's most popularly requested cable lengths and colors.
Amphenol Category-6A (CAT6A) FTP Shielded Patch Cables offer "future-proof" network performance; optimally designed for 10-Gigabits per second (10.0 Gbps) speeds at distances up to 100m (330'). According to Amphenol Cables on Demand Product Manager, Nick Blas, "We're using our very best 26 AWG F/UTP (Foil-Screened Twisted Pair) shielded CAT6A cable and precision terminating it with true CAT6A-rated snagless shielded RJ-45 connectors. This combination of superior components and manufacturing techniques combine to provide a 50% reduction in Near End Cross Talk (NEXT)."
Mr. Blas adds that the entire cable assembly is bandwidth-tested to 650 MHz; thereby offering more than enough headroom for 10-Gigabit Ethernet (10GBase-T) at extreme distances, as well as support for the emerging 100-Gigabit Ethernet (100GBase-T) standard at the shorter distances typically used by patch cords. "Beyond just the technical parameters," Mr. Blas suggests, "we know just how critical quality and reliability are to our customers. We have produced hundreds of thousands of network patch cords to date without a single failure due to manufacturer's defect(s). In many critical applications, there is absolutely no room for error. We individually test every single patch cord coming off the line to CAT6A standards using Fluke DSP cable analyzers. This provides our customers with the peace of mind that any CAT6A cabling procured through us will operate their critical applications without failure for decades to come."
CAT6A Patch Cables are generally offered in two main varieties: the UTP (Unshielded Twisted Pair) variety, much along the lines of regular CAT6 cabling, as well as the FTP variety (Foil Screened Twisted Pair). At speeds of 10 Gigabits per second and above, high-bandwidth signals such as 10-GbE are extremely prone to Alien Cross Talk (ANEXT), or interference arriving from outside of the cable. This interference can come from a variety of sources, including adjacent data or power cabling, fluorescent lighting, power transformers, WiFi access points and beyond. Manufacturers who elect to build their CAT-6A cables using unshielded UTP type wire have to fight off this outside interference by utilizing thicker gauge wire, more twists-per-inch and tighter component tolerances. This proves to be quite problematic because it increases the diameter of the CAT6A cable by 28% or more and requires IT professionals to follow stricter installation standards. Many installation sites have limited clearance for cabling, making UTP CAT6A entirely impractical.
By utilizing a shielded FTP (Foil-Screened Twisted Pair), also known as F/UTP, cable design for all of its CAT6A Patch Cords, Amphenol's CAT6A products completely eliminate these installation pitfalls. This makes the job of the IT professional(s) responsible for structured data cabling installation far easier. In addition, Amphenol Shielded FTP CAT6A Patch Cables offer superior performance characteristics at a lower cost than competing equivalent unshielded UTP CAT6A products. Genuine Amphenol CAT6A Patch Cables can only be purchased through Amphenol's exclusive online subsidiary, Cables on Demand (http://www.CablesOnDemand.com). Amphenol CAT6A Cables are in-stock now and available for same-day shipment when ordered by 3PM Eastern time. Cables can be purchased in Black, Blue, Green, Red and White color arrangements in lengths ranging from 1 ft through 65 ft. Listed web prices start at only $2.46 per cable, but for a limited time Cables on Demand will be offering customers a complimentary 20% OFF discount for all CAT6A cable purchases made by October 31st, 2013. Customers must enter Coupon Code "CAT6A20" at checkout to receive their 20% discount.
To meet the rising demand for quick-to-deploy, cost effective, modular data center installations, Cables on Demand is also offering OEM's, Integrators and Installers the ability to bundle all of their network patch cable requirements into convenient rack-sized cable kits. Each labeled and poly-bagged kit features 100% tested cable assemblies, precisely built to the end-user's exact specifications. These custom-tailored rack-ready cable kits can include Amphenol's newly released Category-6A (CAT6A) Shielded Patch Cables, as well as other popular products from Amphenol's vast network cabling portfolio; including CAT5e Patch Cables in Shielded or Plenum configurations, CAT6 Patch Cables, OM3 Fiber Optic Patch Cables, 10GbE SFP+ Direct Attach Copper Cable Assemblies (Passive & Active) and QSFP/QSFP+ Copper Cable Assemblies for 40-Gigabit Ethernet and QDR InfiniBand applications.
Amphenol Corporation (NYSE:APH) is the second largest manufacturer of connectors and cables worldwide, comprised of over fifty industry-leading divisions including Times Fiber Communications, Times Microwave Systems, Teradyne Connection Systems, Amphenol Interconnect Products and Amphenol RF. Since 1934, Amphenol Engineers have designed innovative interconnect solutions such as the BNC and UHF connector series, SKEWCLEAR wire technology, and XCede backplane architecture.
Amphenol Cables on Demand (http://www.CablesOnDemand.com), launched in 2006, is Amphenol's first wholly owned subsidiary optimized for the distribution of Amphenol brand cable products online. Based in Endicott, NY, Cables on Demand offers same day shipping before 3:00PM Eastern on over 3,000 unique cable SKUs. The company's high product mix supports a vast array of applications including Network, Broadcast, Test, Instrumentation, Audio/Video, Data Storage, Clustered Computers, Prototyping, Automation, Industrial Control, WiFi, Automotive and Avionics. Cables on Demand offers discounts for OEM, Reseller, Government and Education customers, as well as Free UPS Ground Shipping on all orders over $75.00.
All Amphenol Cables on Demand products are assembled and tested to the most rigorous quality and performance standards, guaranteeing trouble-free performance for years to come. Amphenol's strict dedication to RoHS compliance ensures that products are assembled to minimize environmental impact. Customers looking for further details on Custom Cable Kitting Solutions or CAT6A cables in general are welcome to call Cables on Demand Toll-Free at 1-866-223-2860 or send an e-mail inquiry to customerservice(at)cablesondemand(dot)com.