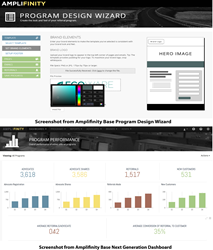 Referral marketing has proven to accelerate growth and harness the power of word of mouth. With Amplifinity Base, every company can now leverage the power of referral marketing to grow their business. -- Larry Angeli, CEO, Amplifinity
Ann Arbor, MI (PRWEB) August 04, 2016
Amplifinity, the industry leading referral marketing platform, announced today a new streamlined version of their platform called Amplifinity Base. This new product was developed to help companies new to referral marketing get referral programs to market quickly, without the need for IT resources.
"There is an incredible amount of pressure on marketers to grow revenue by acquiring new customers. CEOs want results yesterday," stated Amplifinity CEO, Larry Angeli. "Referral marketing is a great way to achieve this objective, but marketers are hesitant if they lack the expertise or internal resources to be successful. With Amplifinity Base, we've streamlined the effort to get a referral program up and running quickly. Combined with expert guidance from Amplifinity's Success team, we can ensure that customers get live quickly to open a powerful, always-on channel for high quality lead generation."
Some of the new features that allow Amplifinity Base to be launched in 7 days include:

Responsive templates with default content – Amplifinity Base provides a library of prefilled responsive templates so marketers don't need to invent from scratch, but rather simply edit to make the program authentic to their brand.
Program design wizard – To provide an easy implementation experience, Base provides a new wizard that guides marketers through the entire process. Allowing marketers to easily select a template, add creative elements and edit copy to generate a fully branded referral program.
Next generation dashboards – Getting a referral program to market quickly is only a small part of achieving success. Marketers require a comprehensive set of dashboards to quickly see program performance, so that they can optimize results. Amplifinity Base includes a complete set of built in dashboards that provide real-time analysis by any selected filter.
Standard integrations – Integrations are often the most complex part of implementing new a referral program but are critical to creating a scalable, closed-loop process that is key to a great user experience. Amplifinity Base is pre-configured to easily integrate with systems like lead sharing and routing, email preference management, reward fulfillment and system of record reconciliation. Base also includes Amplifinity's Connector for Salesforce, a managed app with a quick 30 min install to integrate with Salesforce.
Amplifinity Base combines an easy-to-use product with the referral expertise of their Customer Success team to help companies get to market successfully. Each customer is supported by a personal Success Manager that enables marketers with education, training and design best practices to get to market quickly. In the 7-day launch program, Amplifinity works side-by-side with a customer through program design, promotional preparations, lead management setup, program testing, internal training and public launch. The infographic accompanying this release illustrates the daily steps for launching a referral program in 7 days.
"Referral marketing has proven to accelerate growth and harness the power of word of mouth," commented Angeli. "With Amplifinity Base, every company can now leverage the power of referral marketing to grow their business."
ABOUT AMPLIFINITY
Amplifinity referral marketing software generates revenue growth for companies with sales team by turning customer & partner advocacy into high-quality referral leads. Amplifinity is used by ADP, DIRECTV, ADT, RingCentral, TSYS, Citrix, Procore, Abila, NimbleSchedule and more.
###