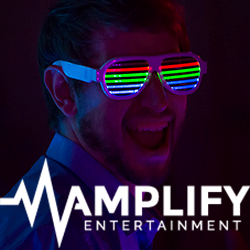 We're lucky enough to work with a very diverse set of incredible people we get to call clients. We can't thank them enough for their role in awarding us with the Couples' Choice award for the fifth straight year.
Tallahassee, Florida (PRWEB) February 04, 2016
Amplify Entertainment owner and Chief Entertainment Officer Nate Long announced today that his company was awarded the prestigious WeddingWire Couples' Choice Award for 2016. Amplify Entertainment is now the first DJ company in Tallahassee to win the award five years straight.
"We're lucky enough to work with a very diverse set of incredible people we get to call clients," said Long. "They differ in musical taste, age, culture, ethnicity, language and personality. Some prefer the spotlight and others prefer to sneak into their own wedding. One thing all of our clients have in common is that they want to experience a fun and memorable evening they will cherish for decades. We can't thank them enough for not only allowing us to be a part of their wedding day, but also for their role in awarding us with the Couples' Choice award for the fifth straight year."
The Couples' Choice Awards recognize the top five percent of wedding professionals in the WeddingWire Network nationwide who demonstrate excellence in quality, service, responsiveness and professionalism. The esteemed awards are given to the top local wedding vendors in more than 20 service categories, from wedding venues to wedding florists, based on their professional achievements from the previous year.
"Amplify Entertainment is amazing," said Vocelles Bridal founder and owner Kristen Vocelle. "Nate and his team do an awesome job. They know how to get the party started and keep it going. This is a team of true professionals."
While many industry award winners are selected by the host organization or by random voting from the general public, the WeddingWire Couples' Choice Awards winners are determined solely by reviews from real newlyweds based on their experiences working with wedding vendors nationwide. Award-winning vendors are distinguished for the quality, quantity, consistency and timeliness of the reviews they have received from their past clients.
"We hold the Couples' Choice Award as one of the most legitimate in the industry," said Long. "Only newlyweds can vote, and winning requires both quantity and consistent quality. So a stellar review or two from a family member won't do. On the other hand, neither will 200 mediocre reviews."
To learn more about the wedding DJs at Amplify Entertainment, visit AmplifyMyEvent.com.
About Amplify Entertainment
Amplify Entertainment was founded in 2006 by Nate Long in Tallahassee, Florida with a single burning ambition: the relentless pursuit of the perfect wedding according to each client's unique vision and preferences. The company, which has since performed nearly 450 weddings, focuses on highly personalized wedding entertainment and lighting fused with technology to connect to wedding clients and their guests in unique and fun ways. Features include custom-designed monogram lighting, custom color wedding LED uplighting, live music options and even the company's own KidStation for younger wedding guests to have their own party while the adults dance. In 2011, Nate Long invented the award-winning Hey DJ! Mobile Request System for Amplify Entertainment, allowing guests to send song requests by mobile web app, text message or tweet. Amplify Entertainment serves Tallahassee, Thomasville, Valdosta, Destin, Panama City Beach, St. George Island, Jacksonville, Ocala, Monticello, Gainesville, Albany and Dothan. Meet the team or set up a free wedding consultation at AmplifyMyEvent.com.