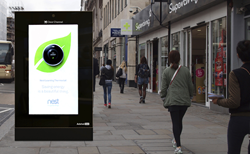 London, UK (PRWEB UK) 24 February 2015
Amscreen, Europe's leading digital signage solutions company and outdoor media giant Clear Channel UK have today announced a deal that will see outdoor, sunlight-visible digital screens deployed across the UK.
The strategic alliance will see the coming together of technology innovators Amscreen and media experts Clear Channel UK. Amscreen's Solutions division will exclusively provide affordable and state of the art digital signage screens that are visible in sunlight, making them ideal for outdoor use and will be deployed as Clear Channel's Adshel Live units at bus stops and various other outdoor locations.
Amscreen has designed a new range of products and operating model that will bring huge efficiencies in the areas of installation, maintenance and full lifetime product support. The screens include a unique modular approach that allows on-site replacement of all key parts where previously this has not been feasible.
The screens will be manufactured and assembled in a purpose built 20,000 square foot plant in Bolton, creating numerous employment opportunities in the area.
Amscreen CEO Simon Sugar, commented, "We are thrilled to announce the partnership with Clear Channel UK and with our combined knowledge of the sector, we have developed our solution from the ground up to deliver a more efficient product in all areas. This initial rollout of screens marks the start of our relationship with Clear Channel, and we look forward to watching this flourish. We have a scalable business model that can be easily replicated across European markets."
Sugar continued, "The deal with Clear Channel will also see us manufacturing and assembling technology here on UK soil, bringing jobs to the industry at a time when many corporations are choosing to move abroad. We are proud to be investing significantly in the UK and are certain our partners will benefit greatly from the support, skills and technological advances that we bring."
Will Ramage, Business Development Director at Clear Channel UK added, "Partnering with Amscreen is the perfect opportunity for Clear Channel to innovate technologically. Their screens and services provide us with an economical solution that we can roll out as Adshel Live across our outdoor network. We are certain that our partnership will provide the acceleration in outdoor screen adoption that the market has long been waiting for. We also look forward to further developing our technology partnership with Amscreen."
The Digital 6-Sheet sector is currently estimated to comprise over 2,000 screens in a number of environments including bus shelters, rail stations and shopping centres. This deal will see a huge injection of digital sites across the UK over the coming year helping to further grow an already burgeoning sector.
-ENDS-
For further information, please contact Matthew Walker at Clear Channel Press Team on 020 7478 2941 / matthew(dot)walker(at)clearchannel(dot)co(dot)uk or Sophie Diner (Amscreen press office) at Frank PR – 020 7693 6999 / amscreen(at)frankpr(dot)it
Notes to editors:
About Amscreen:
Amscreen Solutions division offers clients a simple and cost effective solution to deploying digital screens, allowing incremental revenue, increased sales and reduced costs. With over 6,500 digital screens worldwide, clients that already benefit from Amscreen's unique plug and play solutions include Tesco, BP, Shell and WH Smith.
Amscreen clients own and manage their own network of digital screens allowing them to display content to both their customers and employees. Amscreen offer a simple solution to clients allowing them to easily customise and manage their network of screens, generate additional revenue from monetising screen space as well as receiving unique audience analytics.
Central to this latest innovation is Amscreen's partnership with Sharp Devices Europe to jointly develop a brand new high bright LCD module that is used exclusively in all of Amscreen's outdoor screens.
For more information on Amscreen, visit http://www.amscreen.eu/digital-signage/
About Clear Channel UK:
Clear Channel UK enables brands to meet and engage with people when they're out and about. Our expertise, gained over 40 years, means we understand how to showcase powerful and effective campaigns through our investment in the highest quality sites, new technologies and the latest planning tools. Our partnerships with advertisers, agencies, local authorities, major multiples, shopping malls and major landlords have created a national network of 60,000 sites that reaches people in the public social space, drives footfall and generates word of mouth.
For more information on Clear Channel UK, visit http://www.clearchannel.co.uk/