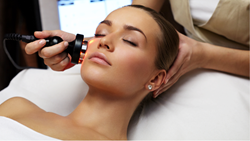 AmSpa wants to encourage medical spa patients to take their medical spa safety and wellbeing seriously!
Chicago, IL (PRWEB) August 04, 2016
Botox, Vampire Face Lifts, CoolSculpting...there's no doubt about it - medical spa treatments are surging in popularity in the United States. More and more people are seeking out ways to improve their appearance through trips to medical spas that provide noninvasive, budget-friendly options. However, many don't know exactly what makes a medical spa the right choice for them.
In order to provide exactly this type of information, the American Med Spa Association (AmSpa) is extending its reach to the consumer through the recent debut of the consumer section on its website, accessible now.
This new website addition features a Medical Spa Treatment Directory, providing potential patients with everything they need to know about medical spa treatments and procedures, from cost estimates to length of recovery to who should be administering the procedure. Some treatment examples include CoolSculpting, Laser Hair Removal, Dermal Fillers, Liposuction, Thread Face Lifts, Vampire Face Lifts (PRP) and more.
Did you know that each state has different requirements in regard to what type of licensed professional can do what type of treatment in a medical spa and medical aesthetics environment? AmSpa wants to encourage medical spa patients to take their medical spa safety and wellbeing seriously! Consumers must take the initiative to inform themselves about the medical spa treatments available to them and who should be providing the treatment.
In response to the rapidly growing profile of the medical spa industry, AmSpa is continuing to grow through new platforms to meet the needs of potential patients. Created specifically for the consumer, AmSpaNow focuses on the latest news and advances in the medical spa industry for the consumer. This just-launched blog will be growing in the coming weeks and months to include articles and giveaways relevant to the medical spa and medical aesthetics consumer!
For more information on AmSpa and medical spa consumers, or to schedule an interview with founder and director, Alex Thiersch, contact AmSpa at 312-981-0993 or info(at)americanmedspa(dot)org.