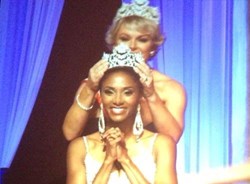 Lord, if you want me to walk through that door, open it wide, if you don't slam it shut...and He's been faithful to His promises every time.
Atlanta, GA (PRWEB) February 14, 2014
Adam She, president of AMTC says, "Bad is bold in the entertainment industry, so good must be BOLDER. It's time for God's stars to stand up on the stages of film, fashion, music and theater."
Each audition is hosted by a scout who is both trained in spotting emerging talent and equipped to inspire performers to a higher calling in the world of entertainment. AMTC's scouts are industry professionals who believe in mentoring the next generation of upcoming artists. After this initial scouting event, select talent will be invited to participate in more intensive programs and training.
One very talented scout includes, Jenn Gotzon:
Award winning actress Jenn Gotzon had her career break playing President Nixon's daughter Tricia (cameo role) in Ron Howard's Oscar-nominated FROST/NIXON which launched her as a rising star and top Christian actress. Jenn has starred in ten Christian worldview movies including: just released family dramedy GOD'S COUNTRY (in stores and blockbuster nationwide), DOONBY, true-story ALONE YET NOT ALONE and I AM GABRIEL. Early 2013, Jenn became the spokesperson for New Evangelization Television (NET TV).
AMTC has been the starting point for hundreds of successful artists and grads like those found on the front page of AMTCworld.org: Brandon Michael a triple threat singer, dancer and actor, and he appeared on Majors & Minors; James Toller - international model; Austin Williams - Mrs. America 2014 and advocate for Human Trafficking Awareness.
AMTC teaches talented people what they need to know and connects them with an array of talent agents, managers and casting directors as the "go-to" source that can create larger opportunities.
Participants can register at http://www.AMTCworld.org/auditions.