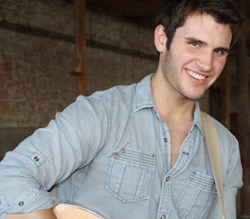 Remember, nothing is impossible! Allow God to direct you and you will live with purpose and your heart will be full of joy.
Atlanta, GAa (PRWEB) October 17, 2013
The Summer 2010 AMTC grad, Andrew Scholz is on the X-Factor with newly formed country trio group Restless Road -- a group that Demi Lovato says, "Simon, I hate to say it, is a genius for putting you guys together."
When Andrew Scholz sang on the X-Factor stage, he nearly got kicked off by the female judges, until Simon requested that Andrew sing a second song. That country song, A Little More You, got him four yeses. What a difference a song can make.
Johnny Apple is in the semi-finals of South Africa's Got Talent. He received a standing O from all three judges and the entire crowd when he belted out James Brown's "This is a man's world." Judge said, "I cannot remember in the last 25 years ever seeing somebody as young as you with such a magnificent voice, extraordinary musicality and … passion." Apple stood on stage soaking it all in.
They have all performed at AMTC's SHINE conference held bi-annually in Orlando, Florida,
Brandon Chase auditioned in Dallas for Actors, Models and Talent for Christ (AMTC) in 2011 and was accepted into their program. He showcased his talents in front of more than 85 agents and talent scouts from across the country at the Summer Shine Convention in 2011 and came out with 26 amazing callbacks. His mother writes, "We truly do need more positive role models in our entertainment industry. I believe you are placing many who are called by God to do just that…Shine for God."
For more information on AMTC or to register for an audition near you, please visit http://www.AMTCaudition.com.