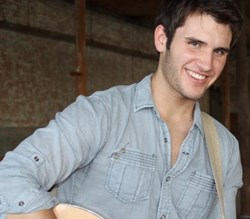 I'm truly in love with music. I don't consider it a job, hobby, or anything else. It's really just my life.
Atlanta, GA (PRWEB) September 12, 2013
From Arlington, Texas, this 19 year old Country/Pop crossover artist picked up music at the age of 14 and quickly became passionate about performing and speaking through songwriting. Brandon Chase started his musical journey playing drums, then turned to singing. Shortly after, he taught himself to play piano/keyboard the acoustic/electric guitar.
Over the past 5 years, Brandon has been working on his craft as a singer/songwriter/musician. From 2008 to present, he has independently released 4 records with all original material. Brandon's latest EP titled COUNTRY ENOUGH established him as a country artist.
Brandon says, "I had my very first online concert hosted by Keepin' it Country Blog on Stageit.com, and it was a blast!" He did another first soon after and, "performed at a fundraiser event for a new film...called 8 Days. I'm so humbled to be a part of a project that is boldly shining the light on the hard issue of human trafficking and putting action into motion to stop this heinous crime."
Brandon Chase went to Actors, Models and Talent for Christ (AMTC) Summer Shine Convention in 2011 and came out with amazing 26 callbacks from agents and scout all over the country. His mother writes, "We truly do need more positive role models in our entertainment industry. I believe you are placing many who are called by God to do just that…Shine for God."
Actors, Models and Talent for Christ (AMTC) has been the starting point for hundreds of successful artists and grads and other contestants from The Voice: Mathai (season 2 Finals) and Taylor Beckham (Season 4); Tim Urban, singer-songwriter with YouTube hit TEARS FOR HALLELUJAH, Maria Bradley, international fashion model, listed as one of the top 10 newcomers from this season now signed with DNA in NY and VIVA in Paris, Caitlin Kinney, choreographer for dance film PLATINUM and stunt double for Bette Midler in PARENTAL GUIDANCE (2013), Josh Murray, actor, THE MAN IN THE CAVE (2013), National Geographic Channel's production of KILLING LINCOLN and most recently cast in the film FOR THE LOVE OF FISH, Charles Michael Davis commercial model for NIKE, actor in SWITCHED AT BIRTH and soon to be released motion picture ANOTHER STATESIDE, Stephen "tWitch" Boss from STEP IT UP REVOLUTION and SYTYCD judge.
Brandon concludes by saying, "Remember, nothing is impossible! Allow God to direct you and you will live with purpose and your heart will be full of joy."
Remember to watch NBC's The Voice on September 23, 2013.
If you have any questions about Actors, Models and Talent for Christ please visit:
http://www.AMTCaudition.com or call 1-800-STAR-420.