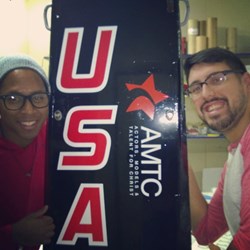 All He [God] wants is just more of our heart and when you give Him that, everything changes.
Atlanta, GA (PRWEB) February 13, 2014
On AMTC's main website, ATMCworld.org, there are hundreds of successful artists and grads. The coolest one on the front page, is Anthony Watson who is currently in Sochi as part of the 2014 USA Olympic Skeleton team. He attended AMTC and is a singer and songwriter. Other interesting entertainers include: Jaden Martin - After Earth, Austin Williams - Mrs. America, Dustin Tavella - Rose Bowl video and, along with Ben Davies, both performed in the BearFruit Films, Rumors of Wars. For more information about those who have gone through AMTC go to the website to read their stories and industry experiences.
AMTC teaches participants what they need to know and connects them with a tremendous amount of talent agents, managers and casting directors during the week long, bi-annual conference, SHINE, in Orlando, Florida. Something a person could never put together independently.
About the audition: each one is hosted by a scout who is both trained in spotting emerging talent and equipped to inspire performers to a higher calling in the world of entertainment. AMTC's scouts are industry professionals who believe in mentoring the next generation of upcoming artists. After this initial scouting event, select talent will be invited to participate in more intensive programs and training.
The scouts for the next three auditions include Carey Lewis, Bob Wiley and Jaco Booyens.
Carey Lewis is the Chief Serving Officer for AMTC. She co-founded the talent development company in 1982 with her supermodel mother, Millie Lewis, a New York covergirl of the 1940s. Carey says, 'In our first 24 years, AMTC became a power player, launching stars in film, fashion, music and theater, but something was missing.' She discovered the 'It' was God. Lewis had a 'come-to-Jesus' meeting in 2006. She felt called to bring AMTC along. 'People thought I was crazy, that AMTC could not exist as a boldly Christian company, but they were wrong,' laughs Lewis.
Bob Willey is a veteran stage actor with over 20 years of experience starring in dozens of productions. He's also worked in national film, fashion and voiceovers.
And, Jaco Booyens is a professional athlete who was called to the entertainment industry. Jaco was a child actor in South Africa, and grew up to become a rugby star. Today Jaco is a worldwide speaker on the role of Christians in arts and entertainment.
People can register for an audition at http://www.AMTCaudition.org.