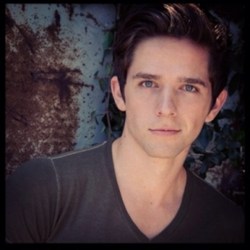 I know that I have been given the chance to have an impact on people's lives and I take that incredibly seriously. One of my biggest goals in life is to be a good influence on the people who are looking up to me.
Atlanta, GA (PRWEB) July 13, 2013
This special Nashville event will be hosted by Dan Keen, AMTC Scout. Dan is a Colorado native whose success in Nashville's music industry has paved the way to a recent appointment as a professor in Belmont University's Mike Curb College of Entertainment and Music Business. The former ASCAP Vice President also enjoyed award-winning stints at EMI and Sony/Meadowgreen Music Publishing. Keen serves on the Board of Directors of both the Gospel Music Association and the International Bluegrass Music Association. He also works on Grammy Awards committees and is an alumnus of Leadership Music.
Bad is bold in the entertainment industry, so good must be bolder. It's time for God's stars to stand up on the stages of film, fashion, music and theater.
For the past 30 years, non-profit Christian ministry Actors, Models and Talent for Christ (AMTC) have been scouting the country, searching for actors, models, singers and dancers who are called to become positive role models.
Founded in 1982, by supermodel Millie Lewis and her daughter Carey Lewis, AMTC is a mission and a movement that provides aspiring performers with professional direction, industry introductions and spiritual preparation so they can shine for Christ in the entertainment industry.
AMTC has been the starting point for hundreds of successful artists and grads like Mathai from The Voice, Taylor Beckham, The Voice's Season 4 hopeful with Team Usher, Two America's Next Top Models (Cari Dee and Whitney Thompson), Charles Michael Davis, commercial model for Nike and actor in Switched At Birth and soon to be released motion picture Another Stateside, Steven "tWitch" Boss from Step It Up Revolution, Ben Davies from Courageous and Aaron Conley as Young Simba from The Lion King on Broadway.
AMTC teaches talented people what they need to know and connects them with an array of talent agents, managers and casting directors as the "go-to" source that can create larger opportunities, as confirmed by corporate representatives.
Actors Models and Talent for Christ Nashville auditions will be held at The Factory at Franklin, 230 Franklin Road, Franklin, TN 37065. Auditions are being held in the Heritage Room at 7:00 p.m.
Auditions are free of charge and 7:00 p.m. auditions are available. You may call Advantage Talent Development – 615.790.5001 to schedule your audition or register online at http://www.AMTCaudition.com