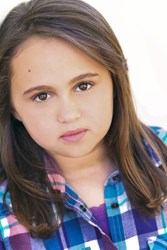 My favorite part would have to be getting to meet all the actors and how to learn... to be a better actor.
Atlanta, GA (PRWEB) September 04, 2013
Dear Dumb Diary is a new series of family movies on Hallmark Channel. It is refreshing to see these good family movies coming out. This goes along with what Adam She, AMTC's Executive Director says about the entertainment industry, "Bad is bold in the entertainment industry, so good must be BOLDER. It's time for God's stars to stand up on the stages of film, fashion, music and theater."
After graduating from Actors, Models and Talent for Christ (AMTC), Mary-Charles signed on with Pervis Talent Agency in Atlanta and then with Osbrink Agency on the west coast. Mary-Charles' career skyrocketed and she has very impressive credits like the TV series: Ben and Kate, Grey's Anatomy and Hannah Montana. She has graced the big screen in Identity Thief (2013) with her little sister Maggie Elizabeth as well as Footloose, Father of Invention and Nadia's Promise (2014) –where she plays the lead character, Nadia.
Mary-Charles, the oldest of three girls, has often been described as an "old soul," with her humor, sensitivity and emotions well beyond her years. Her siblings Maggie Elizabeth (We Bought a Zoo) and Lillian Ellen (Coma and Ben and Kate) are also actors. Tony Phelan's (Director & Co-Executive Producer of Grey's Anatomy) praises Mary-Charles, "It is really difficult to find child actors who you don't feel are playing at the part, but who are just simply being themselves. She had a great ability with those big eyes to just be herself. And she was a total crack-up on set."
Mary-Charles has been nominated for two Young Artist Awards 2010 and 2011: Best Performance in a TV Series - Guest Starring Young Actress for Grey's Anatomy (2005) and Best Performance in a TV Series - Recurring Young Actress Ten and Under for Hannah Montana (2006).
Actors, Models and Talent for Christ, a non-profit Christian ministry, has been the starting point for hundreds of successful artists and grads like Tim Urban, singer-songwriter; Maria Bradley, international fashion model; Caitlin Kinney, choreographer and stunt double; Josh Murray, actor and many more.
For the past 30 years, AMTC has been scouting the country, searching for actors, models, singers, dancers and comedians who are called to become positive role models in the entertainment industry.
For more information about Actors, Models and Talent for Christ or an audition near you please visit http://www.AMTCaudition.com or call 678-783-0500.