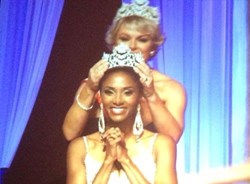 ...there are two things that I know, beyond a shadow of a doubt...that I will be put in a position to minister to teenage girls and young women all over the world...

Atlanta, GA (PRWEB) September 09, 2013
Years later, she returned to AMTC and is currently an acting and modeling coach and stylist for its Bridge Training Program (AMTC's Talent Development Program) where she is an ever present wealth of wisdom and encouragement in the industry, especially for young girls.
Austen is a model is all senses of the word: an international fitness and commercial model; a role model for women and young girls wanting to go into the industry; and a model wife and mother to her two children.
Austen has been modeling, acting, singing, and dancing for more than 22 years and had done more than 40 regional and national jobs by the time she graduated from high school.
Austen's clients have included Abercrombie and Fitch, Ruehl, Frito Lay, Hanes, L'eggs, Sony, American Airlines, Pfizer, K-Swiss, MTV, The Firm, Vibe Magazine, and Best Body Magazine, just to name a few. Additional work includes fifteen fitness videos, three films, and five television shows. Austen has been a personal development instructor, a manager of a multi-million dollar fitness facility, a business owner and an inspirational speaker to nearly 14,000 students.
As a Youth Pastor, Austen has a heart for teens and has recently followed the call to be a host for a hip, new TV talk show called INsight.
Most recently, Austen just finished a role as a reporter on the post-production film 8 DAYS - a film about modern day slavery inspired by actual events. Several actors in this film were graduates of Actors, Models and Talent for Christ.
As for her new Mrs. America title, Austen will go on to represent the U.S. in Mrs. World 2013 pageant to be held in Guangzhou, China on Nov. 23rd.
For more information on Actors, Models and Talent for Christ, please visit: AMTCworld.com or for audition information visit: http://www.AMTCaudition.com.